Sisters reign at Wimbledon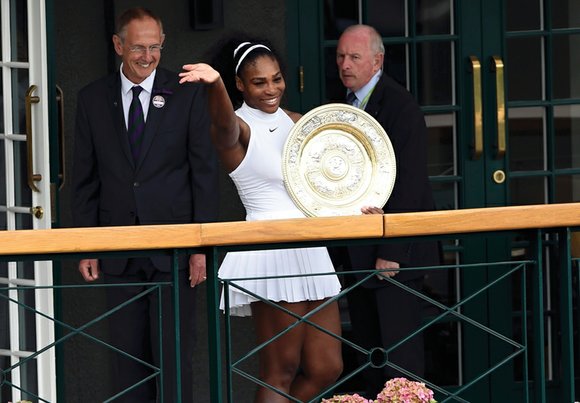 LONDON
Serena Williams proved her star power and tennis mastery once again when she won both the single's title and, with her sister, Venus, also claimed the doubles title Saturday at Wimbledon.
The 34-year-old Serena won the annual competition's Venus Rosewater Dish in a 7-5, 6-3 final's victory over Germany's Angelique Kerber.
The win was Serena's seventh Wimbledon title. It also was her 22nd grand slam title, putting her equal to Steffi Graf's professional era record.
"There's definitely some blurs between eight, nine and 10," Serena, who began her collection of titles at the 1999 U.S. Open beating Switzerland's Martina Hingis, told reporters.
"I don't even know where eight, nine and 10 were, or when," said the champion. "I definitely don't remember where 12 was. I remember one through four. Gets really blurry after that.
"But I will be able to definitely place this one."
For good reason.
Serena won her 21st singles major a year ago by beating Spain's Garbine Muguruza at Wimbledon. But the 22nd title seemed elusive, with defeats by Kerber and Murguruza in the Australian and French Open finals.
Apart from a slight scare when she dropped a set against fellow American Christina McHale in round two, Serena looked perfectly at ease during the championships.
On Saturday, during her victory over fourth seed Kerber, her game oozed smooth power. Even when her opponent fought tenaciously to stay in touch, there were none of the panicky moments Serena is occasionally prone to.
She said that was because she was calmer than ever, having decided to accept some "tough losses" and carry on.
"I had to start looking at positives, not focusing on that one loss per tournament which really isn't bad. For anyone else on this tour, they would be completely happy about it," she said.
"Once I started focusing more on the positives, I realized that I'm pretty good. Then I started playing a little better."
Serena put the icing on the cake of another magnificent Wimbledon campaign by teaming up with sister Venus Williams for a sixth doubles crown at the All England Club on Saturday.
The reigning Olympic champions beat Timea Babos of Hungary and Kazakhstan's Yaroslava Shvedova 6-3, 6-4 on Centre Court — just hours after Serena claimed the singles title.
Serena has now won both the Wimbledon singles and doubles — with Venus — in the same year on four occasions. Together, the sister duo have a perfect 14-0 record in grand slam doubles finals.
"It's unbelievable," said Serena. "It's a feat even I couldn't have thought would have happened. It's amazing."
For Venus, it was a consolation after she lost to Kerber in Thursday's singles semifinals — denying her a first grand slam singles final since losing to Serena at Wimbledon in 2009.
"It's a privilege, it's an honor," said Venus. "When you enter the doubles draw, you dream of winning. Then we enter the singles, we dream of winning. To have Williams on both of those, somehow in 2016, it's another dream come true."
The sisters, who paired up again this year after a two-year absence, have won 14 grand slam doubles titles together — moving them level with American Gigi Fernandez and Belarussian Natasha Zvereva in second place on the all-time list.
They still have a ways to go, however, to match the 20 of Martina Navratilova and fellow American Pam Shriver.
The Williams sisters are now 22-1 in all doubles finals they have played together.