Serena wins Wimbledon
Reuters | 7/17/2015, 4:14 a.m. | Updated on 7/17/2015, 4:14 a.m.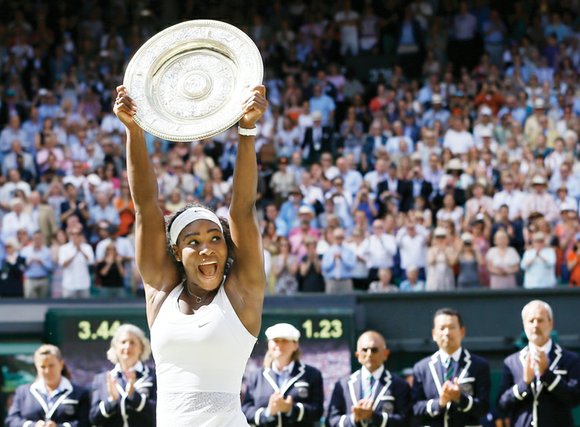 Reuters
LONDON
Serena Williams, up 5-1 after already winning a set during the finals at Wimbledon on Saturday, duly completed the job against Garbine Muguruza 6-4, 6-4 to claim her sixth Wimbledon title and her first since 2012.
The accomplished athlete's victory completed the "Serena Slam" — winning four straight majors — for the second time.
All eyes will be trained on Serena to see if she makes more history at the season's final grand slam — the U.S. Open.
If she wins the U.S. Open, which starts Aug. 31 at Flushing Meadows in New York, she would become only the third woman to win the Grand Slam in the professional era of tennis.
"I honestly wouldn't have thought last year, after winning the U.S. Open, that I would win the Serena Slam at all," the 34-year-old champion said of emulating her feat of 2002-2003. "It's super exciting."
Despite Serena's vast experience and vice-like grip on women's tennis, crossing the finish line for a 21st grand slam title made her heart pound just as fast as when she made her first breakthrough at the 1999 U.S. Open.
"I just learned that all the people are nervous, even Serena, in a final, because I saw it," Muguruza told reporters. She's the first Spaniard to contest a Wimbledon women's singles showpiece match since Arantxa Sanchez-Vicario in 1996.
Muguruza, the clean-hitting 21-year-old born in the Venezuelan capital of Caracas, played magnificently in the first set, leading 3-1 and 4-2 before Serena raised the intensity level after a slow start.
The enormity of the occasion, and the sheer presence of Serena, then seemed to hit home and the Spaniard crumbled, losing 14 out of 15 points to trail 5-1 as her experienced American opponent closed in for the kill.
Then Serena got a bad attack of the jitters before regaining her poise in the nick of time.
"You'd be surprised — I feel vulnerable every time I step out there," she said. "It's just overcoming those feelings."
But her anxiety was apparent when she began the game with an eighth double-fault, gesticulating to her players' box where her family and friends, including rapper Drake, watched.
"There was definitely pressure toward the end. Garbine really stepped up to the plate today," Serena said of her young opponent, who shed tears when receiving a long ovation as she collected her runners-up trophy.
On Sunday night, Serena and Novak Djokovic, the tournament's men's singles champion, revived a bygone Wimbledon tradition at the annual champions' dinner.
They danced together to "Night Fever," the Bee Gees' disco hit from the 1977 movie "Saturday Night Fever."
"I was very pleased," Djokovic said at a news conference at the All England Club on Monday, a day after beating Roger Federer in the final to collect his third Wimbledon title and ninth at a major. "Serena is a great dancer."