Sloane Stephens wins U.S. Open title
Fred Jeter | 9/15/2017, 11:38 a.m.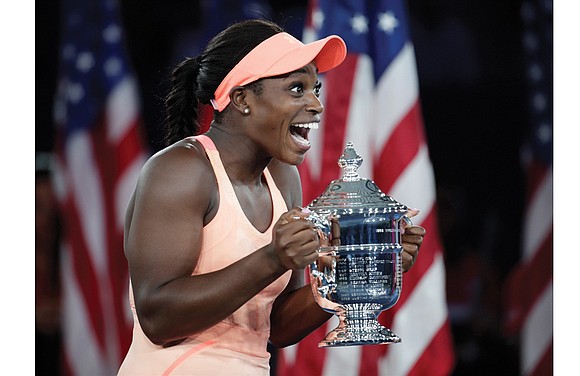 It's unlikely for two African-American women to match strokes in the final of the U.S. Open tennis tournament.
It's far more unlikely for neither to be named Williams.
Against all odds, that's just what happened last Saturday, with Sloane Stephens topping Madison Keys 6-3, 6-0 to win the singles crown at Arthur Ashe Stadium in Flushing Meadows, N.Y.
Serena Williams missed the U.S. Open this year while on maternity leave; her older sister, Venus Williams, was defeated by Stephens in the tournament's semifinal round.
Serena Williams, the world's top-ranked player, has won six previous U.S. Open tournaments. Venus Williams is a three-time champ of the Grand Slam event. 
Serena and Venus have twice faced each other in the U.S. Open singles final, with Venus winning in 2001 and Serena in 2002.
Unseeded Stephens and 15th seeded Keys both are rebounding from injury. Stephens missed time following foot surgery, while Keys had been sidelined with a wrist ailment.
Karolina Pliskova of the Czech Republic, who entered the tournament as its top seed, lost in the quarterfinals to American CoCo Vandeweghe, who later lost to Keys in the semifinals.
The victory was worth $3.7 million for Stephens, who resides in Coral Springs, Fla.
Another unusual twist to this year's event is that both Stephens and Keys are coached by Lindsay Davenport, the 1998 U.S. Open champ.
The right-handed Stephens, 24, comes from an athletic family. Her father, the late John Stephens, was an NFL running back from 1988 to 1993. He was AFC Rookie of the Year in 1988 with the New England Patriots, rushing for 1,168 yards.
Mr. Stephens, who played collegiately at Northwestern State University in Louisiana, died in a car accident in 2009.
Stephens' mother, Sybil Smith, was the first African-American woman to win NCAA Division I All-American swimming honors, competing for Boston University in 1988.
Keys, 22, is 5-foot-10 and the daughter of Rick Keys, an African-American, and Christine Keys, who is Korean. Both are attorneys. She resides in Boca Raton, Fla.
The first African-American woman to capture the U.S. Open singles title was Althea Gibson, who won in 1957 and again in 1958 when it was still an amateur event.
Aside from the Williams sisters, the only other woman of color to reach the U.S. Open final was Evonne Goolagong. An Australian aborigine, Goolagong was a finalist in 1973, 1974, 1975 and 1976, but never won. Goolagong won the Wimbledon singles championship in 1971 and 1980.
The lone African-American male champion at Flushing Meadows is native Richmonder Arthur Ashe, who defeated Tom Okker of The Netherlands for the 1968 men's singles title.