Weber ends VCU career with rough injury
Fred Jeter | 2/10/2015, 5:55 p.m.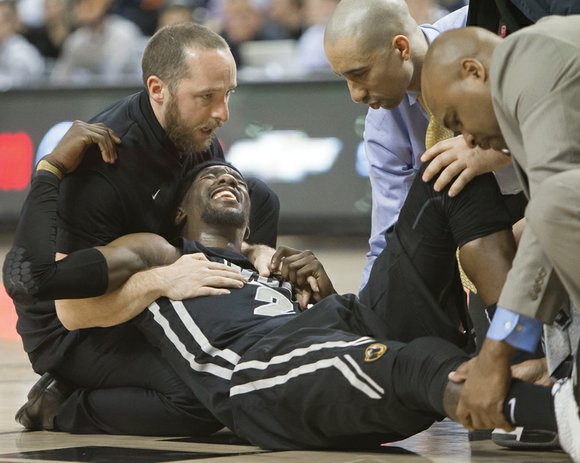 If Virginia Commonwealth University is to persevere and achieve its basketball goals this season, it must do so minus catalyst Briante Weber.
The dynamic senior point guard was scheduled to undergo knee surgery following a college career-ending injury during the Rams' stunning 64-55 home loss last Saturday to the University of Richmond.
Weber, once described as the "epitome of Havoc" by VCU coach Shaka Smart, tore the anterior cruciate ligament, medial collateral ligament and meniscus in his right knee with a little more than 3 minutes left in the game.
The devastating injury means Weber will not become the NCAA's all-time leader in steals — a title he seemed destined to attain.
With six steals against UR, Weber finishes with a career total of 374. That leaves him third all-time behind two Providence players — John Linehan (385 steals) and Eric Murdock (376).
Weber finishes the season averaging 8.1 points and team-high totals of 4.3 assists and 3.9 steals.
The loss snapped VCU's 12- game winning streak and marked the first home loss to UR since 2001.
Overall, VCU leads in the crosstown series 45-27.
Starting the week, the Rams (17-4 overall and 7-1 in the Atlantic 10 Conference after the UR loss) still held first place in the A-10, with one less loss than Rhode Island (15-5, 7-2) and Dayton (16-4, 6-2).
Losing to the University of Richmond dropped VCU from fourth to eighth in the all- important Ratings Percentage Index (RPI) that determines NCAA tournament seeding.
VCU has No. 2 strength of schedule, behind only Kansas.
The Weber-less Rams were to play at George Mason University in Fairfax on Wednesday night. Next up is a trip to Allegany, N.Y., Saturday to face St. Bonaventure University (11-8, 4-4). That game, which starts at 2 p.m., will be televised by the NBC Sports Network.
Weber's injury ranks with the worst in VCU annals.
In 1975, senior Richard Jones from Rich mond's Maggie L. Walker High School took a nasty spill at the Richmond Coliseum in a game against Texas A&M and was hospitalized with a head injury. Jones played only 14 games that season.
Another local star, Kendrick Warren from Thomas Jefferson High School in Richmond, suffered a season-ending knee injury in 1993 and played just 19 of the 30 games his junior year.
Weber was averaging a productive 27 minutes per game. His duties likely will be divided among sophomore JeQuan Lewis and freshman Jonathan Williams.
It remains to be seen if "Havoc"— a swarming style of full-floor defense — will pack the same wallop without Weber's harassing style.
Weber was "Havoc's" eye of the storm the past four years.
For the season, VCU has a 363-221 advantage in forcing turnovers and a 217-119 lead in steals.