3 VUU legends to be inducted into CIAA Hall of Fame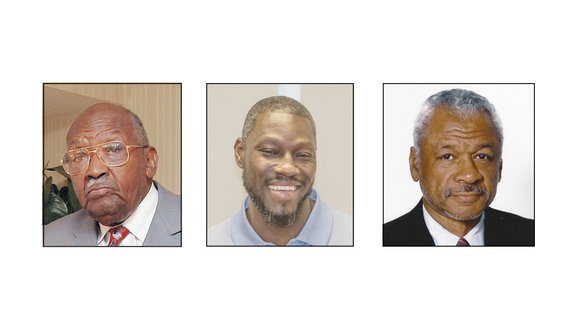 Three Virginia Union University luminaries will be inducted into the CIAA John B. McLen- don Jr. Hall of Fame.
They are Dr. Allix B. James, president emeritus of VUU; James Battle, former VUU athletic director; and former Panthers basketball star Ben Wallace.
They will be inducted into the Hall of Fame along with six others during the CIAA Tournament in Charlotte during a ceremony 9 a.m. Friday, Feb. 27, at the Charlotte Convention Center.
The other inductees are: Terrence Warren, a former track and football standout at Hampton
University; Dr. Sunday Adesuyi, a former administrator at St. Paul's College; Dr. Charles Lyons Jr., former chancellor at Fayetteville State University; Dr. Peggy Green, an instructor and former administrator at Fayetteville State University; Larry Rose, a former basketball official; and Thomas Blue, a former basketball standout at Elizabeth City State University.
"These presidents, former student-athletes, officials and administrators are not only outstanding individuals, but also have made an immeasurable impact at their respective institutions and on the conference as a whole," said CIAA Commissioner Jacqie McWilliams in announcing the 2015 inductees.
Dr. James served as VUU's seventh president from 1970 to 1979. He then served as a professor for 14 more years.
He graduated from VUU in 1944 and returned in 1947 as a Bible instructor. He was promoted to dean of students, then dean of the Graduate School of Religion and later university vice president before assuming the president's post.
Dr. James oversaw the establishment of a corporate gift program that led to numerous university renovations. He also instituted the music program at the university and helped orga- nize the university band.
He made probably the two greatest athletic hires in VUU history — basketball Coach Dave Robbins, the first non-African- American to coach in the CIAA, and football Coach Willard Bailey. Both already are members of the CIAA Hall of Fame.
Coach Robbins led the Panthers to three national championships, 14 CIAA championships and 21 NCAA tournament appearances. Coach Bailey was the winningest football coach in CIAA history and won seven conference titles.
Mr. Wallace, known as "Big Ben" because
of his 6-foot-9, 240-pound frame, averaged 13.4 points, 10 rebounds and shot 52.3 percent at VUU from 1994 to 1996.
As a senior in 1996, he was named first-team Division II All-America and helped the Panthers to a 28-3 record and a berth in the Division II Final Four.
He holds the university's single season record with 114 blocks and was named to the CIAA 60th Anniversary All-Tournament team in 2005.
Mr. Wallace appeared in 34 games for the Washington Bullets (now the Washington Wiz-ards) after going undrafted in 1996 to start a 16-season NBA career
He appeared in his 1,055th NBA game on Feb. 14, 2012, surpassing the record held by Southern's Avery Johnson for the most games by an undrafted player.
In addition to an NBA title with Detroit, Wallace was NBA Defensive Player of the Year, named to the All-NBA Defensive Team six times and earned All-NBA five times.
Coach Battle served the CIAA for 22 years. A 1965 graduate of Fayetteville State University, he joined Coach Dave Robbins' basketball staff at VUU in 1979. He became the Panthers' athletic director in 1985. Under Coach Battle's administration, the football program earned three CIAA titles while Coach Robbins' programs won eight, including four in a row. The 1992 squad won the Division II national championship.