VUU 1983 Lady Panthers, A.J. English to be inducted into CIAA Hall of Fame
Fred Jeter | 12/27/2019, 6 a.m.
Virginia Union University will be well represented in the upcoming 2020 John B. McLendon CIAA Hall of Fame Class.
The induction ceremony will be Feb. 28 at the Charlotte Convention Center in conjunction with the annual CIAA Basketball Tournament.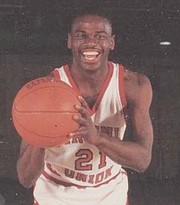 Inductees will include former Panthers basketball standout Albert "A.J." English and also the 1983 NCAA Division II champion VUU Lady Panthers squad.
English led the NCAA Division II in scoring as a senior and accumulated 2,396 points under Coach Dave Robbins from 1986 to 1990.
The Wilmington, Del., native was named CIAA Player of the Year and also NCAA Division II Player of the Year in 1990. English was a second round draft pick by the NBA Washington Wizards.
Under Coach Lewis Hearn, the 1983 Lady Panthers posted a 27-2 mark en route to the national title in Springfield, Mass.
VUU defeated previously undefeated California State Polytechnic University, Pomona 73-60 in the title game.
Paris McWhirter and Barvenia Wooten were both named to the All-Tournament Team, with McWhirter receiving MVP honors.
Also to be inducted in 2020 are former Livingstone College basketball standout Antonio Davis, former CIAA football and basketball official Leslie Speight and former North Carolina Central University basketball star LeVelle Moton.
The CIAA Hall of Fame draws its name from the late John B. McLendon, a former coach at North Carolina Central (then North Carolina College) and Hampton University (then Hampton Institute) and founding father of the CIAA Basketball Tournament in 1946.