Threatt takes to rim to win NBA slam-dunk contest
Fred Jeter | 2/20/2015, 6:53 p.m. | Updated on 2/20/2015, 6:53 p.m.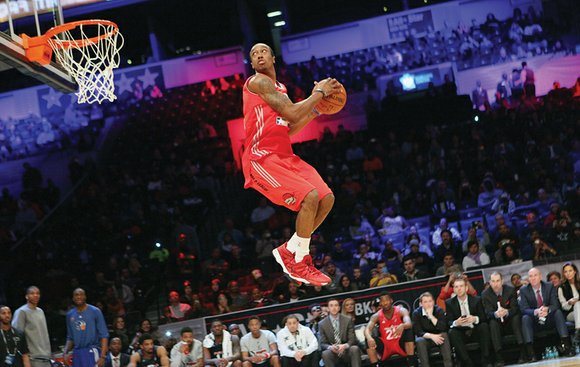 Following some career setbacks, Jarvis Threatt is on basketball's comeback trail.
Last Sunday, that travel itinerary led him to Brooklyn, N.Y., site of the NBA's Developmental League (D- League) Slam-Dunk Contest and All- Star Game.
Showing there's plenty of bounce left in his sneakers, the 6-foot-2 guard from Henrico County's Highland Springs High School and the University of Delaware won the dunking derby in jaw-dropping fashion.
His fourth and final dunk at the Bar- clays Center involved catching the ball on a high bounce in midair, and then taking it through his legs for a right-handed windmill slammer-jammer.
"That's one of my favorite dunks," he said in a phone interview. "It took me a while to get it down, but now I've got it."
The theatrical throw-down drew a maximum score of 50 — meaning he earned perfect 10s from all five judges.
"I won a big ol' trophy that I sent home to Mom," said Threatt, son of Cheryl and Jay Threatt Sr.
Following the exhibition, he flew to the Houston, Texas, area where he plays for the Rio Grande Valley Vipers, the D-League affiliate of the NBA Houston Rockets.
Threatt becomes NBA draft eligible in June. His college career ended a year prematurely, and an overseas pro offer failed to materialize.
Had his original plans gone smoothly, he would be a Delaware senior this winter and a likely Colonial Athletic Association (CAA) Player of the Year candidate.
After three seasons in which he scored 1,191 points, Threatt was dismissed from the Newark school last June for what the school called a "violation of rules."
"Only God never made a mistake," said Threatt. "I believe things happen for a reason. It's something I've had to go through. It's made me more mature."
As a junior, Threatt averaged 18 points, six rebounds and 6.4 assists for the CAA tournament champion Blue Hens. He had 14 points in Delaware's loss to Michigan State University in the first round of the NCAAs.
Following his dismissal from Delaware, Threatt had offers to transfer to other colleges but instead signed a contract with a pro club in Greece.
He flew to Greece, but the team he signed with folded before he played a single game.
That's when he signed with the Vipers, coached by Nevada Smith. He's averaging about 14 minutes per game, coming off the bench for the D-Leaguers.
It was Smith who nominated Threatt for the dunk contest, which was held the same weekend the NBA held its All-Star Game and other functions at Madison Square Garden in Manhattan.
"He (Smith) sees me everyday. He knows what I can do," said Threatt, noting he can touch his elbow on the rim.
Threatt was not selected for the All- Star game itself.
In Brooklyn, he unleashed some smooth moves to win, even while saving another flashier dunk for possible future contests.
"I've got one where I bounce it off the backboard, catch it, take it through my legs, and then dunk it," he said.
A reporter suggested that might be the winning ticket if he's ever selected for the NBA All-Star Dunk Contest.
"That's right," he said with a good natured laugh.