VCU's Graham trying his luck in NBA Summer League
Fred Jeter | 7/3/2015, 2:51 p.m. | Updated on 7/3/2015, 2:51 p.m.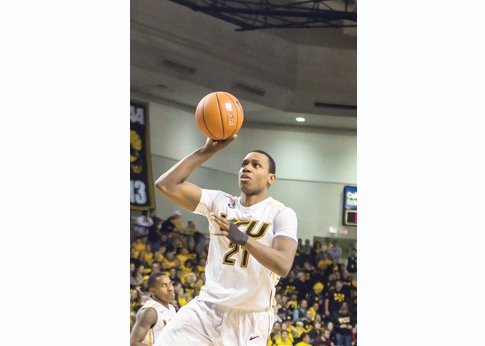 Treveon Graham hopes for a change in his basketball luck in the mecca for gambling, Las Vegas.
After not getting picked in last week's NBA Draft, the former Virginia Commonwealth University star has signed to play for San Antonio in the Samsung NBA Summer League at the University of Nevada at Las Vegas.
The July 10-20 league is an audition, of sorts. It is comprised mostly of recent draftees and non-draftees, second-year NBA players and others who have been competing overseas.
Graham, the 6-foot-6 All-Atlantic 10 forward, built a strong case for being drafted while at VCU, scoring 1,882 points and winning MVP honors at the Portsmouth Invitational Tournament.
Also, Graham was invited to the NBA Pre-Draft Combine in Chicago. He was projected to be a possible second round draft selection.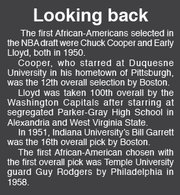 In Las Vegas, Graham will be joined on the Spurs' roster by another non-draftee, 6-foot-8 Darion Atkins from the University of Virginia. Atkins was ACC Defensive Player of the Year last winter. If Graham fails to make the Spurs' regular season roster, he will likely play in the NBA Development League or sign a contract overseas.
Two other former VCU players will try their luck in the NBA Summer League in Orlando.
Juvonte Reddic will play for the Brooklyn Nets, while Bradford Burgess will suit up for the Orlando Heat. Both played professional basketball in Europe this past winter. Reddic played in Italy; Burgess, in Belgium.
Receiving happier news on draft day were U.Va.'s Justin Anderson, plucked in the first round by Dallas, and William & Mary's Marcus Thornton, who was selected by Boston in round two.
Anderson entered the draft with a year of eligibility remaining in Charlottesville. The 6-foot-6 wing from Montross becomes U.Va.'s eighth first-round pick.
Others were Barry Parkhill, Wally Walker, Jeff Lamp, Ralph Sampson, Olden Polynice, Bryant Stith and Cory Alexander.
U.Va's Joe Harris was a second-round pick last year.
Thornton left W&M as the program's all-time scorer — 2,178 points — after four historic seasons.
Coincidentally, Boston had another player named Marcus Thornton this past season before trading him to Phoenix for Isaiah Thomas.
Thornton is the first W&M player drafted since Keith Cieplicki in 1985. The only W&M players ever to play in the NBA were Andy Duncan (1949-51) and Brandt Weiner (1984).
Failing to hear his name called on draft day was Jarvis Threatt, a former Highland Springs High School and University of Delaware star who played last year in the NBA Development League.
Threatt averaged 13 points, four rebounds and five assists for the Rio Grande Vipers in Texas.
The 6-foot-2 guard drew attention by winning the D-League Slam-Dunk Contest in Brooklyn, N.Y., and by registering the highest vertical leap — 43 inches — at the D-League Pre-Draft mini-camp in Chicago.