Local, state players on NBA opening rosters
11/4/2016, 7:04 p.m.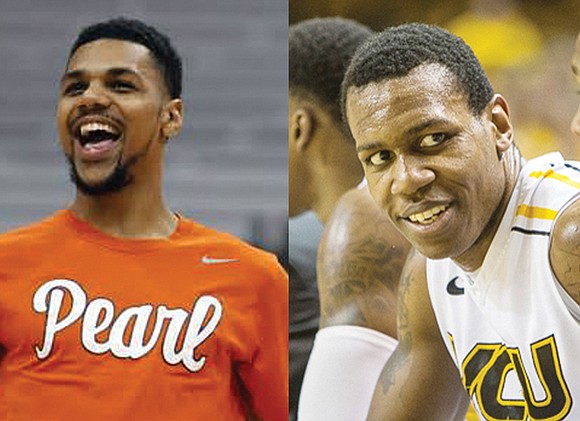 Michael Gbinije and Treveon Graham are the Richmond area's latest contributions to the NBA.
Benedictine College Prep alumnus Gbinije is a 6-foot-7 rookie guard/forward for the Detroit Pistons. Last winter, he helped spur Syracuse University to the NCAA Basketball Tournament Final Four.
Gbinije was the Pistons' second round draft pick and the 49th chosen overall.
He is at least the fourth Benedictine player to reach the NBA, following John Kuester, Mark Crow and Ed Davis. Vernon Hamilton played in the preseason with Detroit, but not the regular season. Johnny Moates and Les Henson were drafted out of college but did not play in the NBA.
Graham, a former Virginia Commonwealth University forward, is beginning his first season with the Charlotte Hornets after playing previously in the NBA D-League.
The 6-foot-6 Washington native was undrafted coming out of VCU in 2015.      
Graham's 1,872 career points at VCU is second to Eric Maynor's 1,953 on the Rams' all-time list of those playing exclusively for VCU.
Len Creech scored 2,019 Rams' points from 1964 to 1969. VCU was formed by a 1968 merger of the Richmond Professional Institute and the Medical College of Virginia.
Graham becomes the ninth Ram making an NBA roster, joining Jesse Dark, Bernard Harris, Gerald Henderson, Edmund Sherod, Eric Maynor, Larry Sanders, Troy Daniels and Briante Weber.
Currently a free agent, Weber played last season with the NBA's Memphis Grizzlies and Miami Heat.
Two VCU seniors from 2015-16 are playing professionally in the Italian League. Melvin Johnson is with Pallacanestro Varese, while Korey Billbury has joined Recanati.
Here is a partial list of other athletes with state and/or area ties on the NBA's opening night rosters.
Atlanta Hawks: Kent Bazemore, Old Dominion; Mike Scott, Chesapeake, University of Virginia.
Charlotte Hornets: Mike Tobey, U.Va.; Jeremy Lamb, Connecticut, son of former VCU star Rolando Lamb.
Brooklyn Nets: Joe Harris, U.Va.
Dallas Mavericks: Justin Anderson, Tappahannock, U.Va; Damian Finney-Smith, Louisville, from I.C. Norcom High School in Portsmouth, played one season at Virginia Tech.
Golden State Warriors: James Michael McAdoo, Norfolk Christian, University of North Carolina, son of former ODU star Ron McAdoo.
Los Angeles Clippers: J.J. Redick, Duke, Cave Spring High School in Roanoke.
Memphis Grizzlies: Troy Daniels, William Fleming High School in Roanoke, VCU.
Milwaukee Bucks: Thon Maker, Carlisle School, Martinsville.
New York Knicks: Kyle O'Quinn, Norfolk State.
Philadelphia 76ers: Gerald Henderson Jr., Duke, son of former Huguenot High and VCU star Gerald Henderson Sr.
Portland Trail Blazers: Ed Davis, Benedictine, University of North Carolina, son of former Virginia Union University star Terry Davis.
Washington Wizards: Jarell Eddie, Virginia Tech.
A note: Phil Pressey was waived by Golden State in October. Pressey played at Missouri and is the son of former George Wythe High School star Paul Pressey.
Many more athletes with state and local connections are playing in the NBA D-League and professionally overseas.