VCU retires Burgess' number; Graham hopes to be next
Fred Jeter | 2/26/2015, 8:40 a.m.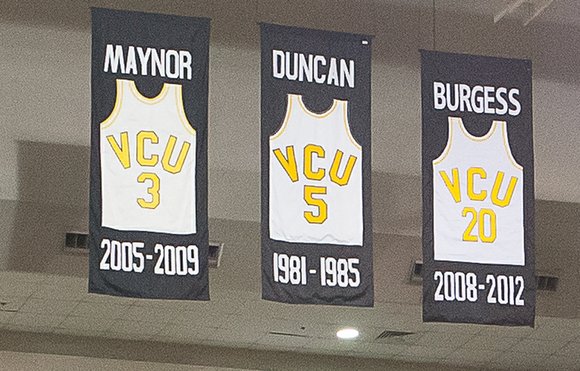 In its storied basketball history, Virginia Commonwealth University has retired the numbers of five players. Their jerseys now hang from the Siegel Center rafters.
They are No. 3 Eric Maynor, No. 5 Calvin Duncan, No. 22 Gerald Henderson, No. 23 Kendrick Warren and, just this past Saturday, No. 20 Bradford Burgess.
Sometime in the future, look for Treveon Graham's No. 21 to be among the rafters display.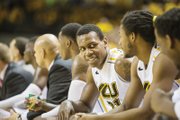 The Rams' foes probably wish the university would retire Graham's jersey right now, preferably with Tre in it.
No. 21 has been here, there and everywhere during the last four seasons. Never has he seemed more omnipresent than in the 78-72 home win over the University of Massachusetts on Saturday, Feb. 21.
Before the sold-out Atlantic 10 Conference game, VCU retired Burgess' number.
Soon after the presentation, Graham made a case for "I'm next."
He had 24 points and 10 rebounds, marking the 19th double-double of his career and the fourth this season despite missing three games with a sprained ankle.
The 6-foot-6 senior from suburban Washington, dubbed "Freight Train," is certainly chugging toward a VCU lifetime achievement award.
His credentials include:
• Third all-time scorer – 1,739 points
• Third all-time free-throw maker – 409 • Sixth all-time 3-point maker – 184
• Ninth all-time rebounds, 726
Plus, his stardom has paralleled team success. The team's victory over the University of Massachusetts keeps the Rams atop the A-10, with the tough University of Dayton Flyers coming to Richmond on Saturday.

VCU, which is 21-6 overall and 11-3 in the A-10, and Rhode Island each have three losses, but the Rams defeated Rhode Island head to head.
The Rams began the week ranked No. 12 nationally in Ratings Percentage Index, or RPI, the key tool for determining NCAA seeding. The Rams have been to the NCAAs in each of Graham's previous seasons.
This is the ninth straight year the Rams have won at least 21 games. Only Duke, Gonzaga and Kansas can match that consistency.
Notes: Although Burgess' No. 20 has been retired, it has been bequeathed to his younger brother Jordan, a VCU sophomore who had eight rebounds against UMass.
Like his brother, Jordan came to VCU from Benedictine High School. They are the first Benedictine Cadets to join the Rams since Rhea Saltz in the early 1970s.
Graham's No. 21 previously has been a lucky number. The last Ram to wear the number was Englishman Nick George, who scored 1,546 points from 2002 to 2006.