Joe locks up win, gets cold shoulder
Delegate Morrissey back in General Assembly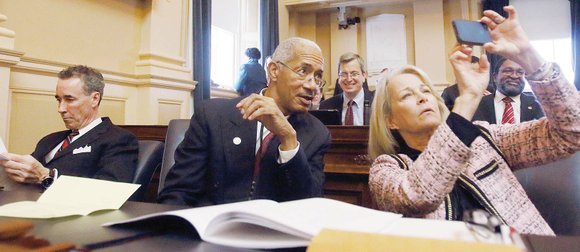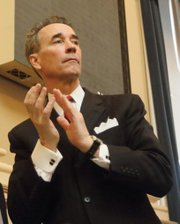 Joseph D. "Fighting Joe" Morrissey is back in the General Assembly.
The embattled legislator received rock star treatment Wednesday from a gaggle of TV, radio and print reporters who followed his every move and hung on his words, but mostly got the icy shoulder from fellow lawmakers.
Fresh from winning re-election in a special election the night before, Delegate Morrissey was virtually ignored by the men and women he serves with after being sworn in at his legisla-
tive office about 11:25 a.m. and walking into the Capitol to take his seat in the House of Delegates for the opening of the new session at noon.
Only Richmond Delegate Delores L. McQuinn walked over to speak with him during a recess.
The 57-year-old lawyer appeared to have braced himself for a different reception.
Responding to a question about how he would deal with any effort by the legislature to expel him, he said he expects "certain people to take certain actions, and I will respond then."
However, instead of being greeted with verbal brickbats, Delegate Morrissey sat largely unnoticed in a corner seat next to the Speaker of the House's dais, his only unexpected recognition coming from House Speaker William J. Howell, a Republican, who welcomed him and four other newcomers. Three of the new lawmakers were seated at desks in the same front row as Delegate Morrissey.
In his remarks to the members, Speaker Howell made no mention of the sex scandal surrounding Delegate Morrissey, or the fact that he is now spending his nights in the Henrico County Jail East stemming from his conviction from having an illicit relationship in 2013 with his then 17-year-old receptionist.
The teen, now 18, is pregnant.
Instead, the speaker called on House members to live up to the expectations of citizens to do their lawmaking with "honor, integrity and civility."
Asked after the session about plans for sanctions against Delegate Morrissey, whom the speaker believes has disgraced the office, Speaker Howell said: "Stay tuned."
Delegate David Toscano, leader of the 32 Democrats in the House, said, "We're considering all of our options" with regard to the possibility that Delegate Morrissey could be censured, removed from committees or even expelled.
"It's a mess and a distraction," said a Richmond area delegate who did not want to be identified. "What do we do about him?"
Delegate Morrissey's return, complete with an ankle monitor so authorities can track him, came after he beat two challengers to reclaim his seat.
Even a pre-election police raid on his law office could not halt his supporters from turning out on a rainy, chilly day and carrying him to a 597-vote victory over his closest competitor in the special election in the 74th House District. The district, which has a majority-black population, includes part of Richmond and Henrico County and all of Charles City County.
Delegate Morrissey has represented the district as a Democrat since 2007. This time, however, he ran as an independent and, because of his conviction, was largely limited to campaigning by telephone from his law office.