Church receives national urban farm status
Feeding the hungry in the East End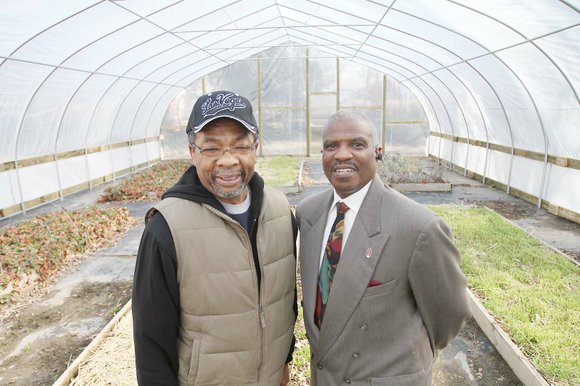 Nearly 100 community members walked by tables loaded with baskets full of collard greens, kale, lettuce, turnip greens, purple sweet potatoes, carrots, radishes, leeks and other fresh produce.
They sought affordable local vegetables and fruits at the launch of the first farmer's market last Thursday in the dining hall at 31st Street Baptist Church.
The good news: "We nearly sold out," said Dr. Morris Henderson of his East End church, which has earned the historic designation by the U.S. Department of Agriculture as the nation's first urban farm.
There was an added bonus: SNAP recipients shopping at the farmer's market could select an additional dollar's worth of vegetables or fruits for every $1 purchase, thanks to a $10,000 matching donation from Bon Secours Richmond Health System.
It is the latest initiative by the trailblazing church at 823 N. 31st St. to fight hunger in a disadvantaged area of the city known as a food desert, or community where affordable and nutritious food is difficult to obtain.
A cadre of public officials gathered last Thursday to laud the innovative, collaborative venture to provide affordable nutritious food to needy residents, including Virginia First Lady Dorothy McAuliffe; Audrey Rowe, the USDA's Food and Nutrition Services administrator; City Council member Cynthia I. Newbille, 7th District; Bon Secours Virginia Health System CEO Peter J. Bernard; Virginia State University Dean of Agriculture Jewel Hairston; and Tricycle Gardens director Sally Schwitters.
While there, some of the officials donned aprons and helped serve a lunch of spaghetti, corn, bread, iced tea and dessert to some of the more than 100 people who turned out for the church's daily lunch feeding program in the dining hall.
Tricycle Gardens, a Richmond-based non- profit organization whose mission as stated on its website is to "grow healthy food, healthy communities and a healthy local food system," is managing the farm project at 31st Street Baptist, providing two farm managers and other expertise.
Local farmers will bring their produce to sell at the farmer's market from 11 a.m. to 1 p.m. each Thursday.
Meanwhile, the church will continue to grow produce at 24 cultivated, raised garden beds that sit on a 0.85-acre lot behind the church.
Next to them is a hoop house — a series of large hoops covered with a layer of heavy greenhouse plastic. Heated by the sun and cooled by the wind, the structure provides a year-round space where vegetables and fruits can be grown.
It was built two weeks ago with the help of a USDA grant, and is scheduled for a spring unveiling, Dr. Henderson said.
Nearby is a botanical garden to grow flowers to provide to sick or shut-in church members and to spruce up the church.
And a spring groundbreaking is planned in the same area for a meditation garden to be lined with fruits and vegetables where, according to Dr. Henderson, people can go "for tranquility amidst the chaos and confusion of life."
"I teased the pastor that he now is the Rev. Dr. Pastor Farmer Morris Henderson," said Ms. Rowe in an interview at the Free Press office following the event. Church members have generously donated funds to help make the farm project possible, Dr. Henderson said.