Hopewell Blue Devils keep rolling like the river
Fred Jeter | 1/29/2015, 5:14 p.m.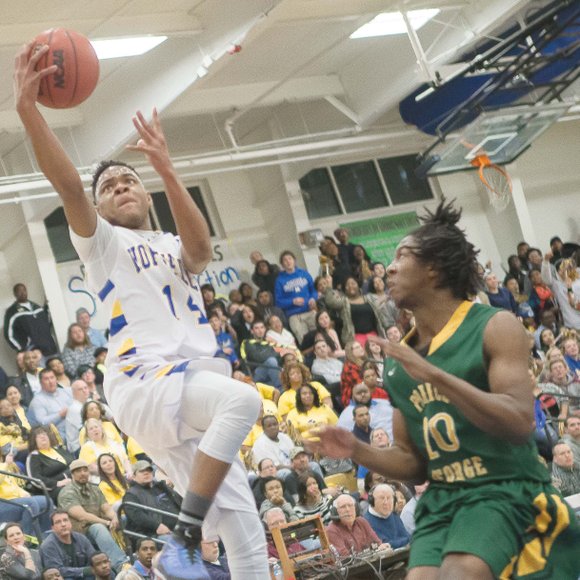 Hopewell is home of blue collars and Blue Devils.
The working class city is noted for its smokestacks and its basketball, in either order you prefer.
Traveling through Hopewell, you can't help but notice the skyline of chimneys of Honeywell, Ashland and Evonik Goldschmidt chemical plants and Rock- Tenn paper mill, factories providing much of local employment.
Another aspect of life in Hopewell is the decades- long and ongoing basketball success of the Hopewell High School Blue Devils.
In fact, Hopewell High has been so good so long, it's now dubbed "Hoopwell."
The Blue Devils, under the direction of second-year coach Robbie St. John, started 16-0 and are threatening to seize Conference 26 control away from Richmond juggernauts John Marshall and George Wythe High schools.
John Marshall, last year's state Division 3 champ, and George Wythe, Division 3 runner-up, won't face the Blue Devils this winter until the conference tournament — at Hopewell.
More the merrier: There is no superhero among the present cast; it's a bunch of Robins with no particular Batman.
Seniors Daniel Saunders, Darrell Taylor and Brandon Young, with juniors Deonte Jones and Johnnie Harrison, make up St. John's lineup, along with junior guard Antoine Ford and 6-foot-6 sophomore Owen Aprahamian as the top subs.
The 6-foot-1 Saunders averages 16.6 points per game and is closing in on 1,000 career points. Taylor, at 6-foot-5 and 230 pounds is the main man in the middle.
St. John isn't afraid to go to a bench that supplies about 15 points per outing.
The Blue Devils are playing one man down. The team lost its returning point guard, Isaiah Fernandez, to a season-ending injury.
Turning the "Page": Between 1963 and 2007, re- vered coach Bill Littlepage won 755 games, becoming second in Virginia High School League history to Paul Hatcher, with 897 wins at Robert E. Lee High School in Staunton.
Littlepage is a member of the State Athletic Hall of Fame.
Littlepage's successor, William Simon, coached six seasons, going 77-51 prior to the arrival of St. John, a former Monacan High School baseball star.
St. John coached most recently at rural William Campbell High School, near Lynchburg, before coming to Hopewell High School last season.
A Liberty University graduate, St. John has placed more emphasis on offseason strength and conditioning, while paying homage to the history book.
St. John has asked his players to study the multitude of championship banners on the gym walls and try and imagine where the next banner — representing their work — will be hung.
It seems only right the Blue Devils play in a facility called Bill Littlepage Gymnasium.
Gold 'n' glory: Wearing blue and gold, Hopewell struck hard-court gold in 1972, winning the state Group AAA title.
Littlepage's troops were second in Virginia in 1986 and 1996 and were a final four entry in 1968.
Hopewell versus Petersburg, another basketball juggernaut, is rated among the fiercest rivalries in Virginia.
Hopewell High School's 1972 champions were led by two All-State picks, center Willie McCray and guard Leon Winfield. Other starters were Ed Gholson, Allen Brooks and Jerry Alexander.