George Wythe, John Marshall will enjoy hometown advantage in state tournament
Fred Jeter | 3/4/2017, 10:12 a.m.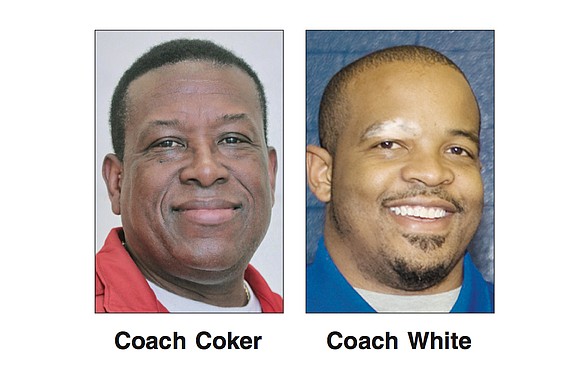 Richmond's George Wythe and John Marshall high schools will need no GPS to guide them to the State 3A basketball tournament.
The Bulldogs (20-7) and the Justices (19-6) will enjoy a hometown advantage when the tournament commences this week at Virginia Commonwealth University's Siegel Center.
"It's a beautiful thing," said John Marshall Coach Ty White.
"I'd like to think it gives us an advantage, and we want to make a nice showing," said George Wythe Coach Willard Coker.
For the quarterfinals on Thursday, March 2, third seeded John Marshall will play Northside High School of Roanoke at 5:15 p.m. and No. 2 seed George Wythe will face Heritage High School of Lynchburg at 8:35 p.m. at the Siegel Center.
No. 1 seed Phoebus High School of Hampton takes on Western Albemarle High School of Crozet and Spotswood High School of Rockingham County plays defending 3A champion I.C. Norcom High School of Portsmouth.
The semifinal games will be played at 5:15 and 8:45 p.m. on Friday, March 3, with the championship game 4:30 p.m. Friday, March 10, at the Siegel Center.
Both John Marshall and George Wythe have fond memories of the 7,600-seat Siegel Center, a mere 10-minute bus ride from each high school.
John Marshall won the state title at "The Stu" in 2014. George Wythe prevailed on the same court in 2015. John Marshall lost in the state semifinals last year to juggernaut I.C. Norcom High.
Hopewell High School, which is in the same Conference 26 as John Marshall and George Wythe, was the runner-up to Norcom High a year ago.
John Marshall boasts the Conference 26 Player of the Year Greg Jones, plus freshman standout Isaiah Todd. The 6-foot-10 Todd is among the nation's top-ranked ninth-graders.
George Wythe, rich in talent and depth, also has a prized freshman in Ikechi Chantilou. The 6-foot-2 wing has the makings of becoming a bona fide star in the mold of such former Bulldogs as Tyree Evans and Jesse Pellot-Rosa.
"We don't think of him (Ikechi) as a freshman anymore. He's just a basketball player," said Coach Coker.
"He's played some good games for us and we're excited about what he can do moving on."
In last week's 3A East Region playoffs, George Wythe defeated William Monroe High School of Stanardsville 62-52; and Norcom High, 52-50; before losing to Phoebus High 78-72.
John Marshall defeated James Monroe High School of Fredericksburg 105-47; and Norcom High, 58-53; before losing to Phoebus 79-73.
In a forgiving format that allows for postseason losses, the top four regional finishers advance to the state tournament.