Wythe, Marshall remain positive despite losses at state tourney
Fred Jeter | 3/10/2017, 7:41 p.m.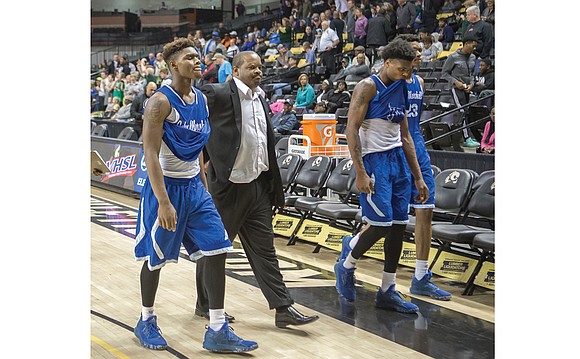 Both George Wythe and John Marshall High schools are looking forward to continued basketball excellence next season — and the next, and the next.
Two freshmen who made their mark this winter figure to provide the Bulldogs and Justices with long-term success.
George Wythe's Ikechi Chantilou and John Marshall's towering Isaiah Todd are rare talents around which coaches can build championship foundations.
George Wythe's season ended Friday, March 3, with a 42-32 loss to I.C. Norcom High School of Portsmouth in the State 3A semifinals at the Siegel Center in Richmond. The Bulldogs finished 23-7 in Coach Willard Coker's fifth campaign on the South Side.
John Marshall fell to Northside High School of Roanoke 72-59 on Thursday, March 2, in the 3A quarterfinals, also at the Siegel Center. The Conference 26 champion Justices ended the season 19-7 under veteran Coach Ty White.
The George Wythe team should be formidable in 2017-18, as all the headliners are returning, with the exception of rugged rebounder Qyante Parham.
Chantilou is a slender 6-foot-2 wing with a smooth outside stroke and quick-striking moves to the basket. The ninth-grader popped in 17 points in Wythe's quarterfinal win over Heritage High School of Lynchburg.
A year ago, Chantilou averaged 28 points for the Bulldogs JV team.
Coach Coker goes so far as to compare Chantilou to former George Wythe All-State guard Maliek White, now a freshman player at Providence College. White was State 3A Player of the Year in 2015 for the state champion Bulldogs.
"My first year here, I was fortunate to have Maliek as a freshman," recalled Coach Coker. "Ikechi is as advanced as Maliek was then, perhaps even more so."
Also expected to return to Coach Coker's roster next year will be rising seniors Eugene Williams, Ja'Rec Brown and Darrell Purdie, and rising junior Antonio Bridy.
John Marshall High certainly looms as a future state contender, with the 6-foot-10 — and growing— Todd the centerpiece. Also expected back as juniors will be the backcourt tandem of Levar Allen and De'Marr McRae.
Coach White will lose James Madison University-bound Greg Jones, the Conference 26 Player of the Year, and Isaiah Anderson from his frontcourt.
A Baltimore transplant, the surprisingly quick and nimble Todd averaged 13 points, seven rebounds and three blocked shots as a 15-year-old ninth-grader.
He figures to be the most heavily recruited post player from this area since Douglas Freeman's Colin Ducharme in the mid-1990s. Already with a national reputation, Todd has scholarship offers from the likes of the University of Kansas, the University of Maryland and the University of Virginia.
Since the Virginia High School League went to a six-tier classification system for high school athletics four years ago, George Wythe High has won one state title, a state runner-up finish and this year's state semifinal run.
During that time, John Marshall High has won one state crown, a semifinal finish last year and this year's quarterfinal effort.
Don't expect that local dominance to end anytime soon.