George Wythe Bulldogs lining up for repeat championship
1/20/2017, 8:12 p.m.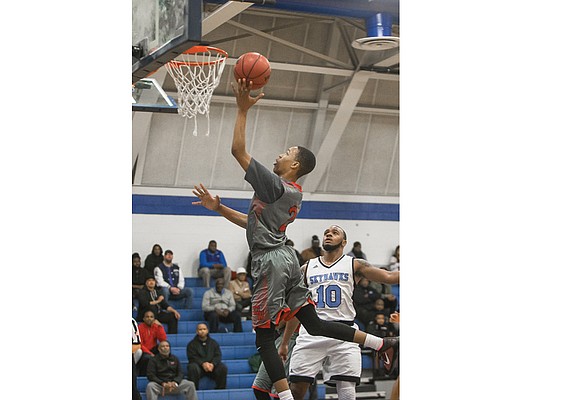 The George Wythe High School Bulldogs might be nicknamed "The Quintuplets" this season.
All five starters on the Richmond school's basketball team are nearly the same height — not too short, not too tall — with similar skill sets.
"We have no exceptionally tall player, but no one under 6-foot either," said veteran basketball Coach Willard Coker. "We're all 6-2ish to 6-4ish."
Depending on how team members style their hair, the shortest Bulldog could become the tallest, and vice versa, on any given night.
"Our best asset is our athletic ability," said Coach Coker. "We have guys who can put it on the floor. Our goal is to stretch defenses out and explore good matchups."
To illustrate that thought, consider:
Junior Darrell Purdie is listed on the roster as a "shooting guard/point guard/strong forward" — take your pick.
In addition to height and versatility, other factors shared among the team members are quickness, leaping ability and youth. Just one of the first six players in the rotation is a senior, Qyante Parham.
Despite the inexperience, the Bulldogs improved to 7-3 on Friday, Jan. 12, with a 71-63 victory at "The Dawghouse" over defending State 4A champion Monacan High School in Chesterfield County.
Two George Wythe starters, juniors Antonio Bridy, aka "Spida," and Jarec Brown, are transfers from Life Christian Academy in Chester.
"Spida has the best ball fakes I've seen since — no joke — Earl Monroe," said Coach Coker.
Others in the first rotation are junior Eugene Williams and standout freshman Ikechi Chantilou, who is as hard to guard as his name is to pronounce.
"Ikechi is so skilled, he makes you shake your head," Coach Coker said. "Even as a freshman, there was no consideration of him being on JV. In fact, he could be an All-Conference player right now."
Coach Coker warns "the private schools will be all over him."
Sadly, it has become routine for some of the most promising athletes from Richmond Public Schools to be recruited by both private and suburban schools.
Coach Coker joked he "might list Ikechi at 5-foot-8" to discourage poachers.
The Bulldogs' scoring is as balanced as their height, with Purdie and Chantilou leading with about 12 points per game. Brown and Bridy are right behind with about 10 points per game.
George Wythe is looking for a new identity following the loss of All-State maverick Maliek White, who was among the premier players in the program's history.
White, state 2015 Player of the Year following George Wythe's Virginia 3A championship, is now a scholarship freshman at Providence College in Rhode Island.
Coach Coker is hopeful his squad will peak in February in time for a run at postseason honors.
Often, George Wythe employs the same circle zone defense that Virginia Union University used to win three NCAA Division II championships.
Coach Coker played on VUU's 1980 NCAA title team and was assistant coach under Coach Dave Robbins for VUU's 1992 and 2005 crowns.
The alignment resembles the standard 2-3 zone, but with numerous complexities.
"We're better than we've shown so far," said Coach Coker.
One thing's for sure — the Bulldogs are going to look sharp in their top-of-the-line red, white and blue uniforms.
Veteran equipment manager Pernell Spears has "about seven sets" of uniforms to distribute, said Coach Coker. "After we won the state tournament, we got some help," he said. "We've been very fortunate."
Former VUU basketball player Brandon Woolen, owner of Assist to Score sporting goods in Washington, was most generous, he said.
So was former George Wythe center Shawn Taggert, now a sporting goods dealer overseas.
The Bulldogs are guaranteed to look snappy.
Coach Coker is hopeful there will be performances to match.
"Our bunch of new guys just needs some love and trust," he said "We're getting there but we're not there yet."