Sophomore Ikechi Chantilou gives spark to George Wythe squad
Fred Jeter | 12/15/2017, 7:28 a.m.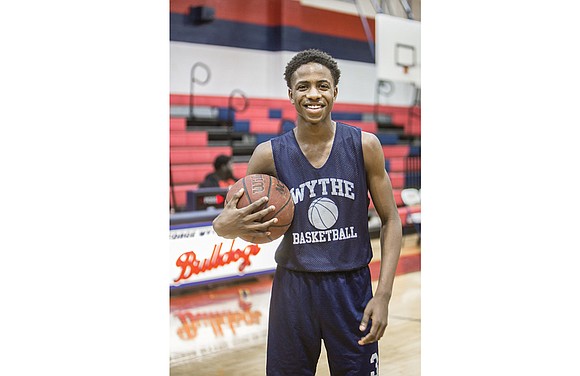 It almost feels unfair. Ikechi Chantilou is so quick, so athletic. And he's only a sophomore.
On a senior-laden George Wythe High basketball squad, it's hard taking your eyes off Chantilou, a whippet-lean, 6-foot-3 guard-forward seemingly with rockets on his sneakers.
"He's a real talented kid with freakish jumping ability," said Bulldogs Coach Willard Coker. "The other night (when George Wythe played Clover Hill High), he maneuvered around a defender, went up, double pumped — and dunked it.
"I don't want to say this too loud, but he may be further advanced as a sophomore than Maliek (White) was."
That's a high compliment. White was the state 3A Player of the Year in 2015, leading George Wythe High to the state title. He is now getting quality minutes at Providence College in the Big East Conference.
Another upside to this sophomore sensation is that he's almost always within shouting distance of Wythe's gymnasium.
"He lives right down there," Coach Coker said, pointing down Midlothian Turnpike. "Ikechi walks to school in the mornings."
It's no stretch to suggest the South Side team is a serious contender for another 3A state crown. The Bulldogs are coming off a 23-7 season in which they defeated I.C. Norcom High School of Portsmouth in the 2017 regionals, but then lost to Norcom, the eventual champion, in the state semifinals.
Along with Chantilou, who averaged 12 points a winter ago as the sixth man, many experienced hands return this season to the Bulldogs.
Jarec Brown, Darrell Purdie and Eugene Williams are all about 6-foot-3, highly skilled and capable of being player of the game on any given night.
Providing a physical presence in the paint is 6-foot-5 Kevin Hubbard, a no-nonsense rebounder and defender. Spearheading the pressure defense, while also offering uptempo ball handling, is quicksilver 5-foot-9 Maurice "The Master" Laster.
All regulars are seniors with the exception of Chantilou.
Confident and battle tested, the Bulldogs had a 4-0 start this season with wins over Armstrong High School (50-40), Clover Hill High School (59-11), North Stafford High School (75-59) and Cosby High School (45-37).
Chantilou averaged about 14 points in the opening victories while also contributing as a rebounder, passer, determined defender and pizzazz creator.
He's no ball hog, either. Patiently, he lets the game come to him.
While a threat from long distance, the 10th-grader is more dangerous with deft dribble drives to the rim and with a classic pull-up, midrange jumper.
While an eighth-grader at Thompson Middle School, Chantilou averaged 29 points on the Wythe junior varsity.
In the offseason, Chantilou plays for BWSL Dip travel team under the umbrella of Boo Williams AAU basketball.
"He's well known. Offers are already coming in," Coach Coker said of Chantilou's college recruitment.
With the exposure comes something else — recruiters from private high schools and aggressive suburban programs who are always on the lookout for inner-city talent.
White had many offers to transfer to other high schools, but remained loyal to Coach Coker and the Bulldogs. It paid off with a state title and a top tier NCAA scholarship.
"I tell our kids that I can teach them as much as anyone else can," said Coach Coker, a former guard and coach at Virginia Union University.
"Sure, these prep schools offer a lot. But they're offering the same thing to 14 other kids. I think it's better to stay where you are and be a star rather than go somewhere and just blend in."
George Wythe has a rich tradition of hoops. Len Creech, Marvin Lively, Ray Epps, Paul Pressey, Luqman Jaaber, Tyree Evans and Jesse Pellot-Rosa, among others, rank with the best in area annals.
But the program had fallen into disarray prior to Coach Coker's arrival. The Bulldogs were a feeble 25-107 from 2006 to 2012.
Coach Coker came to Wythe following a three-year stint as VUU head coach, where he posted a 55-25 worksheet.
"People told me, 'You can't win here,' " he said. "I took that as a challenge."
Coach Coker has met the challenge, and then some. And with Chantilou soaring for slams and pull-up jump shot swishers, there is much momentum looking ahead.