John Marshall heads to Saturday's state final
Fred Jeter | 3/10/2018, 9:16 a.m.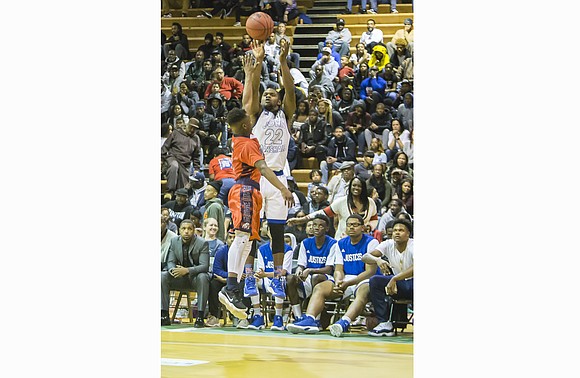 John Marshall High School has proven it's tops in the Richmond area. Now the Justices are out to show they are No. 1 in Virginia.
Coach Ty White's Justices will face another piping-hot team, Western Albemarle High School, for the State 3A basketball championship at 1 p.m. Saturday at Virginia Commonwealth University's Siegel Center.
John Marshall, now 21-6, advanced to the grand finale after a defensive-minded 56-40 victory Tuesday night over crosstown rival George Wythe High School in the state semifinals at the Arthur Ashe Jr. Athletic Center.
The North Side team has won 12 straight games since a Jan. 20 loss to Maury High School of Norfolk, and 18 of their last 19 games. Five of the team's losses came in December during high-profile tournaments in North Carolina, Florida and Georgia.
In the semifinal victory over George Wythe, junior guard DeMarr McRae had 15 points and 6-foot-10 sophomore Isaiah Todd added 14 points.
The George Wythe Bulldogs, led by sophomore Ikechi Chantilou's 17 points, finish the season 21-4.
On Feb. 23 in a much faster tempo game, John Marshall defeated Wythe 83-64, at Wythe, for the regional crown.
Saturday's final at the Siegel Center will be something of a "city versus country" showdown. Western Albemarle, located on Rockfish Gap Turnpike in rural Crozet, between Charlottesville and Waynesboro, is a surprise finalist.
The Warriors advanced with a stunning, bracket-busting 68-64 overtime victory Tuesday over previously undefeated Northside High School of Roanoke at the Salem Civic Center.
Northside High, finishing 28-1 this season, defeated John Marshall in last year's state quarterfinals before bowing to I.C. Norcom High School of Portsmouth in the state 3A final.
Western Albemarle carries a 23-6 record into the Siegel Center, with five of the six setbacks to schools with higher classifications.
The Warriors are riding good fortune. They survived the state quarterfinals with a 46-44 victory over Hidden Valley High School of Roanoke. Tommy Mangrum, a 6-foot-3 sophomore, hit the game-winning basket against Hidden Valley and has been the Warriors' top scorer of late. Western Albemarle's tallest starter is another sophomore, 6-foot-6 Garrett Payne.
John Marshall will have the clear advantage inside with Todd, ranking among the nation's top prospects for the Class of 2020, and 6-foot-9 freshman Roosevelt Wheeler, coming off the bench.
Western Albemarle relies heavily on 3-point shooting and a 2-3 zone defense designed to slow the pace and keep the ball out of the paint. For the Warriors to be competitive, they'll need to minimize transition scoring and turn the contest into a half-court chess match.
John Marshall should be accustomed to that look. The Warriors' defense is similar to George Wythe's style under Coach Willard Coker.
John Marshall won the State 3A crown in 2014 and has been a perennial powerhouse under Coach White since the Virginia High School League went to a six-tier classification in 2014. Previously, John Marshall competed on the highest level, Group AAA.
Previously, inner-city schools have ruled in the 3A classification, with John Marshall winning the crown in 2014, George Wythe in 2015 and I.C. Norcom in 2016 and 2017.