Justices are 3A team to beat despite injury, transfer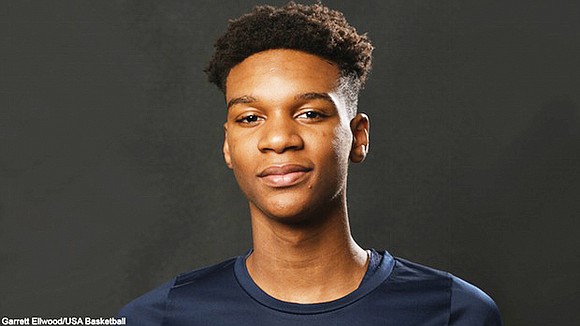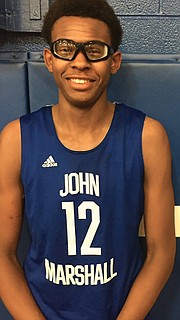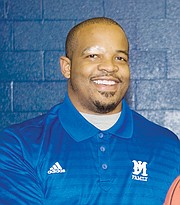 No excuses necessary.
John Marshall High School basketball Coach Ty White seeks no pity, although it would be hard to blame him if he did.
Despite the team's loss of 6-foot-10 Isaiah Todd, who transferred, and the temporary loss of 6-foot-10 Roosevelt Wheeler to injury, Coach White insists John Marshall is the team to beat in the state 3A division.
"If we don't win it, we'll be underachieving," said the always-confident Coach White.
Some background: Last year's Justices, 22-6 overall, claimed the 3A crown by winning the last 13 games and 19 of 20. Most victories were blowouts.
Since then Todd, arguably the nation's top prospect for the Class of 2020, transferred to Trinity Academy in Raleigh, N.C.
More misfortune followed for the Justices. Earlier this fall, Wheeler, a precocious sophomore, underwent knee surgery. Coach White is hopeful Wheeler will return later this month.
Even as a 10th-grader, Wheeler has received scholarship offers from the likes of Virginia Commonwealth University, North Carolina State University, and Oklahoma State and Penn State universities.
This past spring and summer, Wheeler was a dominant performer on the U15 Team Loaded travel squad that went 40-0.
John Marshall High looks forward to Wheeler's return, but it's not forfeiting any games in the meantime.
"We have no big man right now, but we'll be a tough outing for anyone," Coach White said. "We're going to be fine."
For now, Coach White said he has a "five guard lineup" led by fourth-year starters DeMarr McRae and Levar Allen, aka "The DeMarr and Levar Show."
"They are probably the best, most experienced set of guards in the state," Coach White said. McRae and Allen are all-round talents who make positive things happen for the Justices all over the floor.
Filling out the lineup are gifted returnees Jairus Ashlock, Elijah Seward and Aubrey Merrit, all in the 6-foot to 6-foot-3 range. Raymont Lynch adds more championship experience.
A rising star is 5-foot-10 Reggie Robertson, who shined last year at Henderson Middle School.
With or without Wheeler, the Justices will take on some premier opponents later this month in two showcase tournaments.
John Marshall High is entered in the Emerald Coast 16 from Dec. 19 through 21 at Northwest Florida State College in Niceville, Fla. After Christmas, John Marshall packs for the Tournament of Champions from Dec. 27 through 29, in Marietta, Ga.
So far so good: McRae, Allen, Seward and Ashlock all scored in double figures in the Justices' opening victory over Norview High School of Norfolk last Saturday at Meadowbrook High School.
The Justices have two star-studded Saturday night dates prior to heading south. John Marshall plays I.C. Norcom High School of Portsmouth at 8:30 p.m. Saturday, Dec. 8, at the Arthur Ashe Jr. Athletic Center.
On Saturday, Dec. 15, George Wythe High School visits John Marshall for a 7:30 p.m. tipoff at the North Side school. John Marshall defeated George Wythe last winter for the area's regional crown, then again in the state semifinals. 
John Marshall High won the state 3A title in 2014 and 2018, while George Wythe High won the 3A crown in 2015. Norcom High School won state 4A titles in 2014 and 2015, and state 3A crowns in 2016 and 2017.