John Marshall rolling toward second straight state title
3/1/2019, 6 a.m.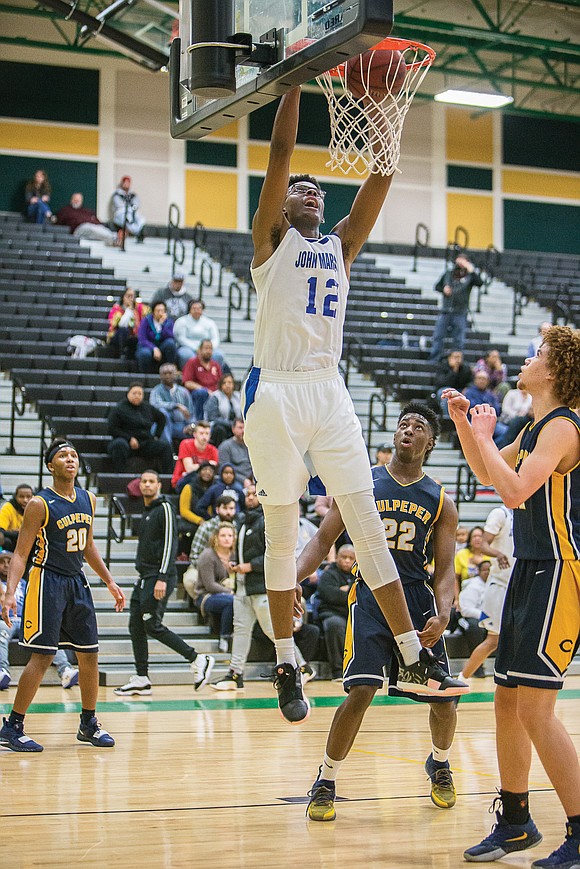 In its quest for a second straight state basketball title, Richmond's John Marshall High School has switched from a No. 1 single star to a galaxy of shining lights.
Among those making Coach Ty White's eyes twinkle brightest is versatile 6-foot-1 senior guard Aubrey Merritt.
"Aubrey's a leader, selfless and tough as nails," Coach White said after the team's 100-62 rout of Culpeper County High School in the Feb. 22 Class 3, Region B final held in Richmond at Huguenot High School.
Merritt is one of four senior standouts returning from last year's 3A State title run.
Rather than list his position as guard, forward or center, Merritt is more of a hybrid. His per-game averages of 12 points and six assists don't reveal the full extent of his capabilities.
"He does whatever I ask," Coach White said. "If I ask Aubrey to score, he scores. If I ask him to pass, he passes. If I ask him to take out the trash, he takes out the trash."
John Marshall won last year's title with marquee attraction Isaiah Todd, who was rated among the top players in the nation in the Class of 2020. Todd has since transferred to Trinity Academy in Raleigh, N.C.
Without Todd, the Justices haven't lost their pole position in the State 3A's fast lane. If anything, the blue and white clad team from North Side might have even shifted up a gear.
"We lost one star, so we all go harder on offense and defense," Merritt said. "The goal is the same — the state championship, absolutely."
For now, Merritt is leaning toward taking his cross-over dribble to Life University in Marietta, Ga., but he's keeping his options open. He figures to continue to impress as John Marshall edges closer to another state crown.
If basketball was a game of poker, Coach White would be holding a fistful of aces. Here are the first six in minutes logged:
Merritt: Splits ball-handling duty with Levar Allen. He is a threat from a distance and relentless in pressure defense.
Jairus Ashlock (6-foot-4, senior): Another all-round performer, he excels in the open floor and attacks the rim with vengeance.   
Levar Allen (6-foot-1, senior): This four-year starter runs the show. He is surprisingly quick and nimble at 227 pounds.
DeMarr McRae (6-feet, senior): Has huge NCAA Division I potential. He peaked in the region semifinals with 43 points against Richmond's George Wythe High School.
Elijah Seward (6-foot-0, junior): An excellent shooter and jumper. He wowed the crowd with a two-handed, alley-oop slam against Culpeper.
Roosevelt Wheeler (6-foot-10, sophomore): Known as the "human eraser" for his shot-blocking skills. He had eight blocks against Culpeper.
Add to that a group of bench players who'd be starters on many other 3A squads. Also, John Marshall had a strong junior varsity season with eighth-grader Te'Quan Allen, Levar Allen's brother, an exciting up-and-comer.
•
For the second straight year, the Justices have continued gathering momentum throughout season.
Last year's team won its last 13 games in a row and 19 of its final 20 games.
The current team, with a 20-4 record, has won 14 of the last 15 games and hasn't suffered defeat since a 57-55 loss to Class 5 L.C. Bird High School of Chesterfield County on Feb. 2.
•
Richmond schools have won nine state championships since the merger of the formerly all-white Virginia High School League and the all-black Virginia Interscholastic Association. Here's the list:
1971: Maggie Walker High School, Group AAA
1975: Thomas Jefferson High School, Group AAA
1976: Maggie Walker, Group AAA
1982 and '83: Marshall-Walker, Group AAA
1984: Jefferson-Huguenot-Wythe, Group AAA
2014: John Marshall, 3A
2015: George Wythe, 3A
2018: John Marshall, Class 3 
Based on enrollment, the VHSL went from a three-division alignment (AAA, AA, A) to six divisions (labeled 1 through 6) in 2014.
JM's next opponent
John Marshall High School's next opponent is among the most decorated programs in state history — the I.C. Norcom High School Greyhounds from Portsmouth.
John Marshall plays Norcom at 7 p.m. Friday, March 1, in the State Class 3 quarterfinals at the Arthur Ashe Jr. Athletic Center.
It's a rematch of sorts, with John Marshall the clear favorite. The Justices defeated Norcom 79-52 on Dec. 8 at the Ashe Center. Norcom lost to Phoebus High School of Hampton 79-57 in its regional final on Feb. 22.
Norcom (13-12) is having a down season by its high standards, but its past achievements are all over the VHSL record book.
The Greyhounds won six state titles between 2010 and 2017. The team took the AAA crown in 2010 and 2011, the 4A title in 2014 and 2015 and the 3A championship in 2016 and 2017.
Any talk of Norcom hoops would be remiss without reference to Johnny Morris. On Feb. 22, 1961, Morris scored 127 points by himself in a victory over Mary Smith High of the Eastern Shore. At the time, both schools were in the Virginia Interscholastic Association.
Morris' mark is considered the all-time state individual record for VIA and VHSL schools combined.