Justices take on I.C. Norcom Friday in state tournament
Fred Jeter | 3/11/2016, 12:39 p.m.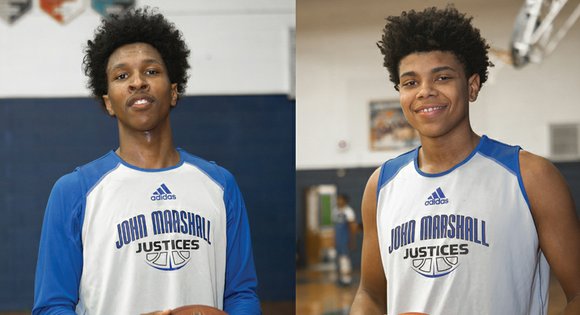 John Marshall High School is among the smallest schools in the Virginia High School League's 3A classification.
It also ranks with the state's 3A elite, at least basketball-wise.
Relying on multitasking athletes such as Xavier Trent and Isaiah Anderson, Coach Ty White's Justices are hopeful of a second state basketball title in three years.
John Marshall, the 2014 State 3A champ and 2013 Group AAA runner-up, features quality, if not quantity, with 6-foot-4 Trent and 6-foot-7 Anderson as double-duty Justices, playing both basketball and football.
Both Trent as wide receiver and Anderson as quarterback, were All-Conference 26 football standouts before lacing up their sneakers in November.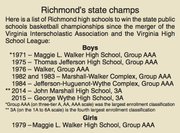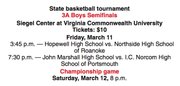 It has been basketball business as usual this winter on the North Side, where winning is a constant and down seasons are sparse as a grocery store bread shelf after a snow alert.
Coach White's "Blue Crew" carry a 24-6 record into Friday's state semifinal at the Siegel Center, where John Marshall will play Portsmouth juggernaut I.C. Norcom High School (27-1).
Like many city schools, Norcom's and John Marshall's enrollments both are tumbling as families, black and white, flee to the suburbs. John Marshall's latest enrollment is listed at 837 students; Norcom's at 1,192 students. Both had enrollments close to 2,000 decades ago.
Norcom won Group AAA (for the state's largest schools) state crowns in 2010 and 2011 and was the 4A champ during the past two seasons. (Current VHSL classes run 1A to 6A, from smallest to largest based on student population.)
Because of the lower student enrollment, Norcom was reclassified to 3A this season.
John Marshall High, on other hand, had to win a VHSL appeal to keep from falling to 2A.
"Our appeal was based on adding some students from Open High, Richmond Community (High School) and Franklin Military (Academy) to our enrollment," explained Lamont Davis, John Marshall's activities director.
Students attending specialty public schools are permitted to participate in extracurricular activities at their home school, in this case, John Marshall.
"By adding our kids coming over from Open, Community and Franklin, we just made it" into 3A, Davis said.
Trent and Anderson are joined in Coach White's lineup by two All-State candidates, senior guard Jeremy Carter-Sheppard (17.2 points, 3.7 assists, 57 3-pointers) and 6-foot-6 junior center Greg Jones (15.8 points, 11.4 rebounds).
Two precocious freshmen, DeMarr McRae and Levar Allen, fill out Coach White's "first six."
Trent is a 192-pound wing forward averaging 11.3 points and 5.3 rebounds. His top scoring nights have been 29 points against Richmond's Thomas Jefferson High School, 23 points against Henrico's Deep Run High School and 19 points against Norcom.
"I think of myself as a spark plug. I like to bring a lot of energy to the team," he said.
Trent had 18 points, all in the second half, as John Marshall defeated Spotswood High School of Rockingham County 61-53 in the March 5 quarterfinals. 
Anderson averages 10.7 points and 6.6 rebounds.
Known as "X," Trent has hit 39 of 84 3-point tries (46 percent). Twice, he has splashed five 3-pointers — against Thomas Jefferson High and Deep Run High. He had two 3-pointers against Spotswood High.