John Marshall hoping to go the distance at state tourney
Fred Jeter | 3/1/2018, 2:12 a.m.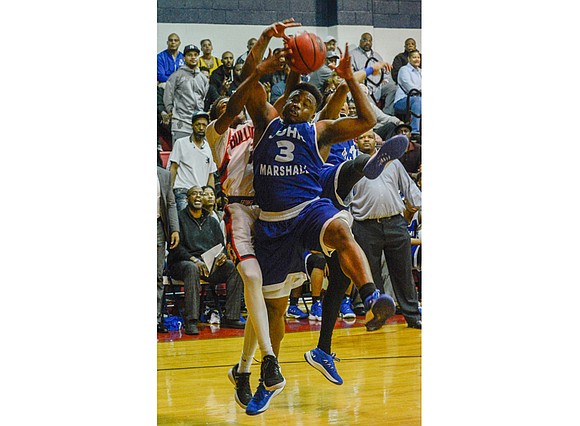 Richmond's John Marshall High School is rumbling into the State 3A basketball tournament with a full head of steam.
The high-riding Justices will play host to Phoebus High School of Hampton at 7 p.m. Saturday, March 3, in the state quarterfinals at the Arthur Ashe Jr. Athletic Center in Richmond.
Few teams have ever been hotter. Coach Ty White's Justices (19-6 overall) have won 15 of their last 16 games, including three lopsided victories in the Division 3, Region B tournament last week.
In succession, John Marshall pounded James Monroe High School 104-34 and Culpeper High School 106-76, before defeating crosstown rival George Wythe High School 83-64 before a jam-packed gymnasium of fans on Friday, Feb. 23, at George Wythe.
The Justices have been steamrolling the opposition.
Since losing to Maury High School of Norfolk on Jan. 20, John Marshall has won 10 straight games by an overwhelming 35.2 points per game.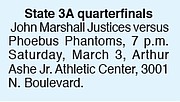 The only competitive game of late was a 67-62 victory on Feb. 2 over state private schools juggernaut Trinity Episcopal School.
John Marshall's attack starts with headliner Isaiah Todd. The 6-foot-10 sophomore is among the nation's top college prospects for the Class of 2020.
Todd had 23 points, including four 3-pointers, in the victory at George Wythe.
The Justices backcourt features a pair of third-year starters in juniors DeMarr McRae and Levar Allen. McRae was sensational against George Wythe, scoring 28 points.
The forwards are 6-foot sophomore Elijah Seward and 6-foot-3 junior Jairus Ashlock, a transfer from Massaponax High School.
From last year's lineup, Seward and Ashlock are replacing two current NCAA Division I players — Greg Jones, now at James Madison University, and Isaiah Anderson, now at the University of South Carolina Upstate.
On the season, Todd averages about 19 points; McRae, 16; and Allen, Seward and Ashlock, about 10 each.
Coming off the bench is 6-foot-9 shot blocker Roosevelt Wheeler, a freshman transfer from Hampton High School.
There is no end in sight to John Marshall's dominance.
All of the Justices' starters, plus Wheeler, will be returning next year, providing John Marshall a reasonable shot at back-to-back state championships.
Gazing ahead, even a third straight crown is feasible with Todd returning for two more years.
John Marshall was 19-7 a year ago, losing to Northside High School of Roanoke in the 3A quarterfinals.
The Justices won the state title in 2014, defeating George Wythe in the final at the Siegel Center.
Not contending this year is perennial power I.C. Norcom High School of Portsmouth. The Greyhounds were eliminated by Phoebus High School last week at the regionals.
Norcom won the State Group AAA championship in 2010 and 2011, 4A crowns in 2014 and 2015 and 3A titles the past two years.