Blue chip freshman Deshawn Goodwyn helping raise George Wythe's stock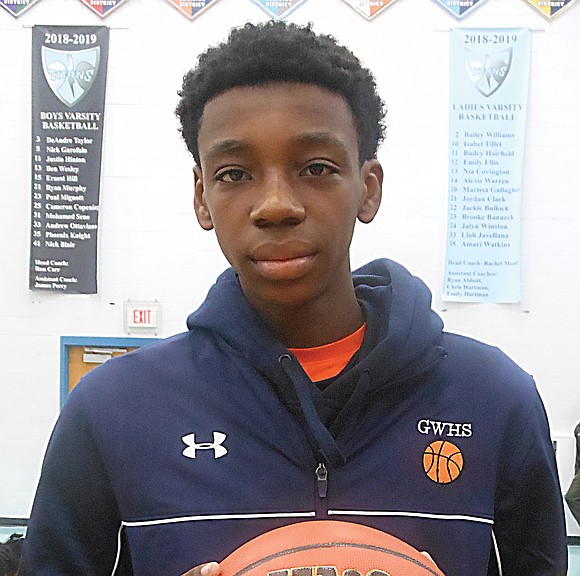 Winning tickets
George Wythe High basketball Coach Willard Coker has helped win championships as a player and coach.
1975: As senior guard, he led R.J. Reynolds High School of Winston-Salem to the North Carolina state title.
1980: He played a leading role as a guard in Virginia Union University's first NCAA Division II championship.
1992 and 2005: He served as an assistant at VUU under former Coach Dave Robbins on Division II national title teams.
2015: He guided George Wythe to its first state title.
When a special freshman arrives at Richmond's George Wythe High School, basketball Coach Willard Coker isn't shy about elevating him to the varsity — even into the starting lineup.
That was the case with Maliek White, who is now a standout at Providence College. The same with Ikechi Chantilou, now among the state's top college prospects.
Deshawn Goodwyn is the latest example.
The slender 6-foot ninth-grader hasn't disappointed in his quick ascent in one of the area's powerhouse basketball programs.  
On Jan. 25, Goodwyn produced one of the most statistically eye-grabbing games of any player of any grade level.
In a victory over Chesterfield County's Clover Hill High School, Goodwyn recorded 32 points, mostly on the strength of 10 — repeat 10 — 3-pointers.
If any area player in history has ever connected for more than 10 triples in a game, he needs to raise his hand and step forward.
Coach Coker said his long-range marksman averages "about four 3s a game" while hitting "about 40 percent" from distance.
"Deshawn is already one of the better 3-point shooters in the entire area," Coach Coker said. "When he starts hitting them, he hits them in bunches. Even on a bad game, he gets a couple."
As George Wythe High's second leading scorer behind Chantilou, Goodwyn had 27 points against Huguenot High School and 24 and 20 in two contests against Manchester High School.
Much of his production comes from behind the arc. The freshman's hot hand from afar has helped vault the Bulldogs into a contending position as the Class 3, Region B regional approaches on Friday, Feb. 15.
George Wythe's Feb. 1 victory at Cosby High School in Chesterfield County gives the South Siders six wins in their last seven games and a 10-7 overall mark.
That's impressive considering the Bulldogs lost numerous front-line performers from last year's 21-4, state semifinalist outfit.
Some background:           
In fall 2012, Coach Coker took over one of Virginia's most ailing basketball programs at George Wythe.
Quickly, health was restored. Now seven seasons later, the Bulldogs' heartbeat remains strong and their bark is getting louder as this campaign continues.
Wythe was a combined 25-107 from 2006 through the 2011-12 season. Since then, the Bulldogs are an overall 125-56, including winning the 2015 state title.
While only a freshman, Goodwyn is no stranger to what the Bulldogs refer to as "The Dog House." There is a well-circulated YouTube video of a very tiny Goodwyn working out with two of the 2015 stars, White and Brandon Holley.
Goodwyn grew up in the Bulldogs' gym. He is the son of longtime Wythe assistant coach Reginald Goodwyn.
Goodwyn's 3-balls are the ideal complement to the extremely athletic Chantilou, who is at his best floating to the rim.
Chantilou, a junior averaging about 20 points, already has Division I offers from Hampton, Longwood and East Carolina universities, with many others keeping close watch.
Others contributing to Wythe's late season success include Kentwan Hubbard, Jahiem Stokes and Jasper Lewis. 
"We like to think we're starting to peak — and this is a good time to be peaking," Coach Coker said.
"We've had some ups and down due to injuries. Everyone wasn't there every game. But our goal this season was to be competitive, and we're doing that," he said.
That's thanks, in part, to a gifted newcomer barely removed from middle school. Boys high school hoops are mostly a game of juniors and seniors, but there's always room for a blue chip freshman.