George Wythe banking on 3-point shooter in playoffs
Fred Jeter | 2/24/2017, 12:40 p.m.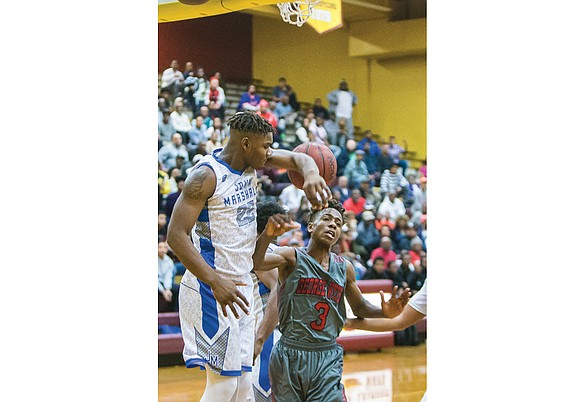 George Wythe High School's basketball opponents are in trouble — make that triple trouble — whenever Eugene Williams uncorks a jump shot.
The springy, 6-foot-2, 176-pound junior has led a 3-point rampage heading into the 3A East Region playoffs.
"Eugene has caught his groove," said Bulldogs Coach Willard Coker.
Williams put together back-to-back games about as impressive as any Bulldog in the program's proud history during Conference 26 action at Petersburg High School last week.
The marksman known as the "Gene Machine" nailed eight 3-pointers and scored 35 points in a quarterfinal victory over Petersburg High School.
No one-night wonder, Williams followed with 26 points and six 3-pointers in a semifinal win over Hopewell High School.
That's 61 points and 14 triples in two games — statistics even George Wythe's all-time scorer Tyree Evans (2,251 points, 2000-2004) would be proud of.
Before that, Williams sank six treys and had 21 points in a Jan. 28 win over defending 4A state champ Monacan High School.
Williams offers no magic formula for his success.
"No one in particular taught me how to do it. I just shoot," Williams said.
But before a player can shoot a 3-pointer, he must get open. It's not like tossing a free throw.
"I try and beat my man to the spot and get the shot off before he can get to me," Williams explained.
The 2015 State Champion Bulldogs are 17-6 this season following a 56-53 loss to John Marshall High School on Friday, Feb. 17, in the Conference 26 finals in Petersburg. The two schools continued play this week in the 3A East Region. 
Williams honed his smooth, long-distance shot as a youngster at Bellemeade Community Center. On the middle school level, he played a heavy role for city champions for two different schools. As a seventh-grader, he showed off his jump shot for champion Boushall Middle School. In eighth grade, he led Thompson Middle School to the same title, once hitting eight 3-pointers in the same game.
Williams doubles as an All-Conference 26 wide receiver for George Wythe's football team under Coach Dion Foxx.
"I may enjoy basketball more, but I might have more of a future in football," he said of his college options.
Despite George Wythe's disappointing football season (1-10), the fleet, sure-handed Williams snared 12 touchdown passes.
He has gone from the Bulldog's six-point leader for touchdowns in football to its three-point leader on the hardcourt.