George Wythe High driving toward state championship
Fred Jeter | 3/12/2015, 10:10 p.m.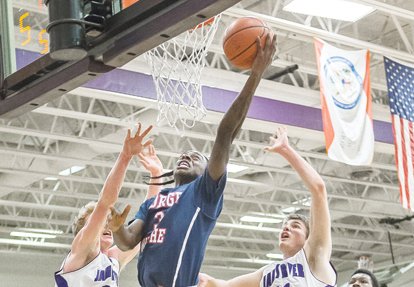 In 1975, Willard Coker was an up-tempo, high-energy guard who led Winston-Salem's R.J. Reynolds High School to the state championship in North Carolina.
Now, 40 years later, Coach Coker — still brimming with energy — is close to winning another high school state title state, this time as coach.
Coach Coker's fast-breaking George Wythe High School Bulldogs were playing unbeaten Spotswood High School of Rockingham County in the State 3A finals at Virginia Commonwealth University's Siegel Center at press time for the Free Press on Wednesday, March 11.
The Wythe Bulldogs improved to 25-4 on Tuesday, March 10, by cruising past Northside High School near Roanoke, 78-57.
Coach Coker "let the Dogs out" at just the right time for peak perfection.
During conference, region and state play, George Wythe was 7-0 with an average victory margin of 26 points going into the state final.
Double trouble: Wythe junior Maliek White and senior Brandon Holley are the Bulldogs' best set of stars since Tyree Evans and Jesse Pellot-Rosa led the South Side school to the 2002 state finals.
That team, however, lost to J.J. Redick-paced Cave Spring High School of Roanoke.  
White had 25 points and Holley, 22 points, in Tuesday's romp over Northside. Both are All-Conference/All-Region picks.
Holley, a long distance marksman, says he is leaning toward Delaware State University for his college jump shooting.
White is a 6-foot-1 dynamo who dazzles in all areas, most notably with slashing, quicksilver drives through traffic, to the rack. He seems a lock for All-State honors for a second straight year.
Among the Bulldogs' old-timers, consensus is that the All-Time George Wythe team consists of Marvin Lively, Jack Epps, Paul Pressey, Evans and Pellot-Rosa.
With another full season to go, White might take someone's place on the All-Time first five.
Secret recipe: Herbs and spices made Colonel Sanders famous. Rebounds and blocked shots make 6-foot-7½ junior Richard Sanders a mouth-watering prospect.

Sanders, who became eligible in late January, gives Wythe a dominant presence at each end of the floor.
While Sanders plays inside for Wythe, he has ball-handling, backcourt skills. Sanders played guard last year on Wythe's junior varsity team.   
Waiting in the wings is Kabir Shabazz-Allah, a 6-foot-6 sophomore who Coach Coker calls "maybe the best post player in our program."
From pauper to prince: In the seven years prior to Coach Coker's arrival, George Wythe was 25-107 and among the most downtrodden programs in the state. The enthusiasm meter was sitting on empty.
Once energized, the Bulldogs improved to 8-14 in 2013 during Coach Coker's first season, then to 24-5 last year en route to a state final loss to Richmond's John Marshall High School.
This year, barking even louder, Coach Coker's "Dogs" have returned to Title Town's doorstep.