Darrell Purdie poised to take George Wythe to state finals
Fred Jeter | 3/1/2018, 2:04 a.m.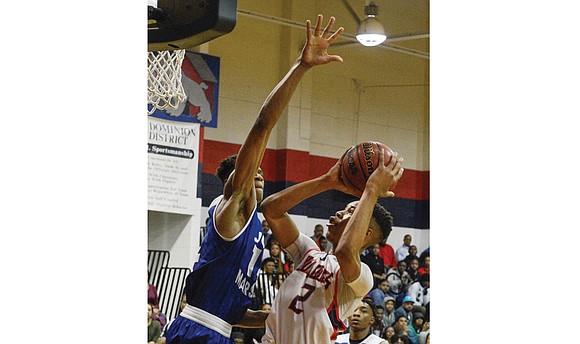 Darrell Purdie may be the area's MVP — most versatile player.
The loose-limbed, 6-foot-5 senior is here, there and everywhere for George Wythe High School's state-tournament bound Bulldogs.
In hoops lingo, Purdie is what's called a "forcenguard" — a smooth blend of forward, center and guard skills.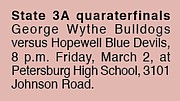 "Darrell is basically a combo (point guard/shooting guard), but he does whatever we ask," said Bulldogs Coach Willard Coker of his third-year starter.
Purdie's all-around talents will be on display when the Bulldogs — 20-3 after the Friday, Feb. 23, loss to John Marshall High School in the 3A, Region B final — travel to Petersburg High School for an 8 p.m. tipoff Friday, March 2, in the state quarterfinal against Hopewell High School.
Defensively, Purdie has quickness to cover guards and the length, strength and hops to hold his own against bigs. That was the case in the region semifinals when he was frequently matched against Armstrong High School's power post, Dominique Finney. 
On attack, Purdie can be the lead guard, a 3-point bombardier, or move seamlessly inside for power moves to the rack.
"I think of myself as a versatile player," Purdie said. "I can go down in the hole (paint) if I'm needed, or I go outside and stretch the opponent's defense."     
Purdie, averaging about 15 points, can be a stat sheet "stuffer," meaning he contributes in scoring, rebounding, assists, steals, you name it.
He drilled three 3-pointers and had 14 points in George Wythe's win over Armstrong and two 3-pointers and another 14 points in the loss to John Marshall.
On the recruiting front, Chowan University of the CIAA and the NCAA Division II is making a pitch, among others.
Purdie isn't alone with his versatility among the Bulldogs. There are several inter-changeable parts.
Jarec Brown, a 6-foot-4 senior, is another player contributing in multiple areas. Then there is 6-foot-3 sophomore Ikechi Chantilou, who had 26 points against Armstrong and 20 points against John Marshall.
Eugene Williams is always dangerous launching high-arching treys beyond the arc.
Kevin Hubbard and Zamare Johnston, both about 6-foot-5, are more traditional post players, while 5-foot-8 Maurice Laster specializes in play-making and creating defensive havoc.
The Bulldogs are no one-year wonder. The South Siders advanced to the state semifinals a year ago, losing to eventual champ I.C. Norcom High School of Portsmouth. George Wythe won the state crown in 2015 and was runner-up to John Marshall in 2014.