James L. Hawkins, 95, retired educator
1/30/2015, 10:15 a.m.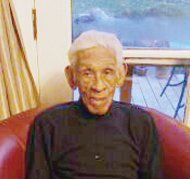 James L. Hawkins had a treasured saying he loved to pass along to his stu- dents during more than two decades as an educator.
"Use your mind, but use your hands as well," his son, Darryl Hawkins, recalled of his father's adherence to a strong work ethic in and outside of the classroom.
Mr. Hawkins, who taught in Richmond Public Schools from 1966 through 1988, drew the saying from the philosophies of iconic trailblazers Booker T. Washington and W.E.B. DuBois and self-determination books they authored, his son said.
Mr. Hawkins "liked working with kids," his son added. "He loved teaching them and training them."
He also was a Boy Scout troop leader at his church, All Souls Presbyterian Church, on North Side.
Mr. Hawkins was "gregarious and fun loving," his son said. "He loved to be around other people and socialize."
Mr. Hawkins is being remembered following his death Wednesday, Jan. 21, 2015. He was 95. The family will hold a visitation from 6 to 7 p.m. Friday, Jan. 30, 2015, at W.S. Watkins & Son Funeral Home, 2700 North Ave. on North Side.
His funeral will be noon Saturday, Jan. 31, 2015, at W.S. Watkins & Son Community Chapel, 2701 Garland Ave.
Mr. Hawkins was born Feb. 9, 1919, in Carteret County, N.C. He met his future wife, Thelma Pittman, when they were children and he visited his uncle, who lived next door to her family.
Mr. Hawkins attended North Carolina A&T University and later Fayetteville State University, where he graduated in 1946. He married after graduating, then attended the Lincoln (Mo.) University School of Law, where he earned a law degree in 1948.
He and his wife moved to Richmond in 1966 to take teaching jobs in Richmond Public Schools. They bought a home in North Side and raised their four children — Quentin, James, Betty and Darryl.
Mr. Hawkins taught at the old Booker T. Washington High School in Jackson Ward, then moved to the nearby Richmond Technical Center, where he taught for many years. He later moved to East End Middle School, where he taught until his retirement.
In his spare time, Mr. Hawkins loved to fish, cook, undertake building projects and attend activities of Kappa Alpha Psi Fraternity, of which he was a lifelong member. He also was an elder at All Souls Presbyterian Church.
"He threw himself into everything he did," his son said.
Mr. Hawkins is survived by his children; one sister, Margaret Thomas; three grand- children; two great-grandchildren; and a host of other relatives and friends.