U.S. surgeon general checks health, pulse of Richmond
1/30/2015, 6:39 a.m.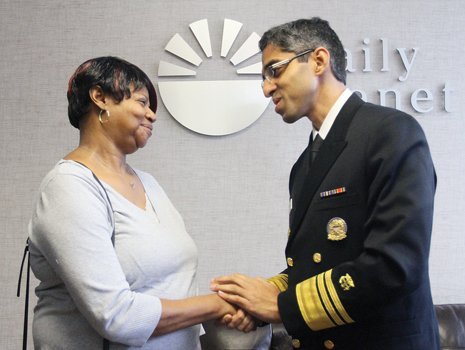 The surgeon general of the United States learned Tuesday that affording health care is as much of a struggle as maintaining good health for some Richmond residents.
Dr. Vivek Murthy, who at 37 is one of the youngest surgeon generals in the nation's history and the first of Indian- American descent, met with community leaders, health care workers and residents in Richmond at The Daily Planet, a health center on West Grace Street that serves the homeless and low-income people and families.
cross-country listening tour, Dr. Murthy heard firsthand about the health challenges many Richmond area residents face on a daily basis.
Chesterfield resident Joyce Pollard shared with Dr. Murthy that she lived without health insurance for about a decade, despite being diagnosed with high blood pressure, diabetes and high cholesterol.
Ms. Pollard, who recently signed up for insurance under the Affordable Care Act, has a full-time job taking care of her 32-year-old autistic son.
At one point, she told the surgeon general, she was taking care of multiple family members, but she could not go to a doctor for her own health.
"I got tired of people sending me bills that I couldn't afford to pay," Ms. Pollard said. Through the help of staff members at The Daily Planet in signing up for health insurance under the ACA, Ms. Pollard now receives a tax credit that significantly reduces the price of her monthly insurance payment.
Dr. Murthy said African-Americans and other ethnic minorities experience illness and mortality at a higher rate than those of the general population.
"We're facing some significant disparities in care," Dr. Murthy said.
In Richmond, with a population that is 50 percent African-American, it's up to community leaders, including pastors of area churches, to engage the community in health initiatives, Dr. Murthy said.
"When, for example, you have African- American pastors and religious leaders reaching out to the African-American com- munity where they already have a bond of trust, that means a lot," he said.
After touring The Daily Planet's health center, Dr. Murthy told reporters that his priorities as U.S. surgeon general are to curb the rates of obesity and chronic disease, two major public health issues plaguing Richmond residents.
"This is where we're losing the most in terms of lives and dollars in our country," Dr. Murthy said.
Richmond is among the most obese U.S. communities, with a 28.8 percent obesity rate, according a Gallup report that analyzed health data from 2012 to 2013.
Dr. Murthy said he is encouraged to see various Richmond community initiatives, such as an urban gardening initiative, which provides fruits and vegetables to encourage healthy eating, and the Richmond Family & Fatherhood Initiative, which aims to increase the number of two-parent homes and to foster healthy families.
"I'm very encouraged by the passion that people have here in Richmond for improving health in the community. They're doing a lot with very little resources, which is a challenge of our time," Dr. Murthy said.