New Episcopal Church leader has Richmond link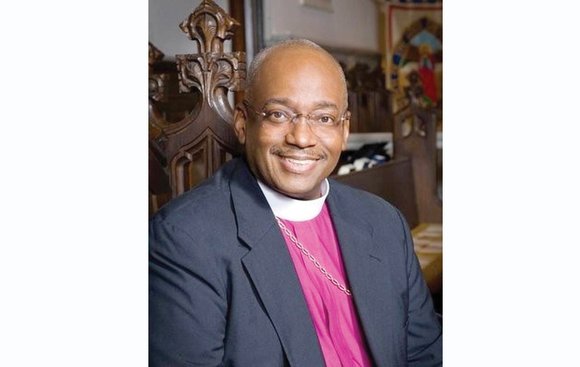 The first African-American to be elected as the U.S. Episcopal Church's presiding bishop has ties to Richmond.
The Rt. Rev. Michael Curry, 62, bishop of the Diocese of North Carolina, was elected the church's 27th presiding bishop last Saturday at the denomination's general conference in Salt Lake City.
He was elected by a 121-53 vote by his peers in the House of Bishops. His election was the first in that body to require only a single ballot. Eighty nine votes were required for him to win.
His election then was affirmed 800-12 at the House of Deputies meeting at the General Convention.
"This is a good and wonderful church, and we are good and wonderful people. I thank God to be one of the baptized among you," Bishop Curry said in addressing the audience that broke into sustained applause with his entry. "My heart is really full."
"We've got a society where there are challenges before us and there are crises all around us. The church has challenges before it," Bishop Curry said. "Nothing can stop the movement of God's love in this world."
He replaces outgoing Presiding Bishop Katharine Jefferts Schori, who was the first female to lead the Episcopal Church, a branch of the 80 million-member worldwide Anglican Communion.
Bishop Curry's nine-year term will begin with a liturgy Nov. 1, on All Saints Day, at Washington National Cathedral.
Bishop Curry has been a popular speaker in Richmond in recent years at the Community Lenten Series at St. Paul's Episcopal Church in Downtown. Faith leaders are invited to speak at lunchtime services during Lent.
Bishop Curry has spoken eight times at the series since 1994, most recently in 2014, St. Paul's Rector Wallace Adams-Riley told the Free Press.
"He brings such wow, such power, such spirit, such humanity and such authenticity," said Rev. Adams-Riley. "You know he's always going to bring the truth and talk about what needs to be talked about.
"He is very personable, very warm, welcoming and a great conversationalist," he added "He's someone with a big spirit and a ready laugh."
As for Bishop Curry's historic election, Rev. Adams-Riley said, "I rejoice in the election of the first African-American as our first presiding bishop. It's overdue. Thank God for it."
The Very Rev. Phoebe A. Roaf, rector at St. Philip's Episcopal Church on North Side, attended the Utah convention in an unofficial capacity. She beamed with pride at Bishop Curry's historic election.
"It's humbling and gratifying that our gifts and skills and talents are recognized and acknowledged by the larger church," the African-American rector told the Free Press from the convention Monday.
"And also, although the Episcopal Church in the United States is predominately white, the 80 million members around the world are predominately people of color. I think he will be welcome on the world stage in ways that perhaps our previous presiding bishops have not been."
Rev. Roaf said she believes Bishop Curry was elected because of his tremendous leadership skills, impressive body of work and his determination to more aggressively evangelize throughout the world.