3 dead in 3 days
City inmate deaths raise questions about medical care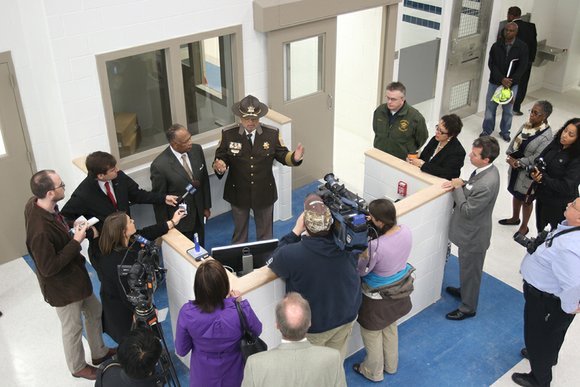 The deaths of three inmates with health problems are once again raising questions about the quality of medical services at Richmond's jail.

All three men suffered health emergencies last week and succumbed, according to the office of veteran Sheriff C.T. Woody Jr.

The office identified the inmates as Shawn Samuel Jr., 22, Zachary E. Tuggle, 29, and Javon A. Morris, 38 — the first inmates to die in the year-old Richmond City Justice Center in Shockoe Valley.
Mr. Morris, who had a heart condition, was under medical care in the jail while the other two died in their cells from as yet unexplained causes. However, it is now known that Mr. Samuel was diabetic and Mr. Tuggle had epilepsy.
Questions hover about whether they were receiving appropriate treatment and medication.
In a statement released Tuesday, Sheriff Woody characterized their deaths as a "private, tragic situation for the families involved, and we mourn with them."
Richmond has long had more inmate deaths from medical conditions than any other jail in the area, in part because those arrested often come in with untreated conditions.
Since Sheriff Woody took charge of jail operations in 2006, an average of six inmates have died each year of medical conditions among the thousands of people housed annually at the jail. That's about two to six times the average for other jails in nearby localities.
About 1,000 inmates a day are housed at the jail.
The sheriff has defended the standard medical care provided at the jail, calling it better than that received by many of the inmates before incarceration.
However, the death rate at the jail was expected to fall sharply after the new Justice Center opened with a state-of-the art medical tier that was developed to upgrade care and reduce the flow of inmates needing hospital treatment.
On the city's website, Sheriff Woody boasts about the medical services that can be provided in the new jail that replaced a crumbling, outdated and overcrowded facility. He notes that the new medical tier has 18 specialty beds and is "designed to provide maximum, onsite care" for the inmates he calls "residents."

Services offered at the Justice Center include X-rays and dialysis. There also is a hyperbaric oxygen chamber to, among other things, treat infections from diabetes and other diseases. The suite also can offer female inmates gynecological and obstetrical services and there's space to provide dental services.

On the website, Sheriff Woody also celebrates the hiring of NaphCare, a Birmingham, Ala., company that promotes itself as providing top-notch medical services for client correctional facilities. Richmond awarded the company a three-year, $6.2 million contract last October to provide jail medical services. Portsmouth and Virginia Beach also have hired the company. NaphCare replaced the former provider, Nashville, Tenn.-based Correct Care Solutions that was hired in 2011.
Requests for comment from Bradley J. Cain, NaphCare's general counsel and the company's designated spokesman, went unanswered.
On its website, NaphCare cites its modern practices, including providing a system that creates electronic health records for inmates in the jails its serves and the proactive medical service it provides. That includes a program in which all arriving inmates receive a health assessment and mental health and TB screening before entering the general population. Treatment plans for each inmate also are developed and started immediately to prevent the spread of disease, the company states.