NSU's Alex Mauricio makes move to mound
7/24/2015, 1:37 p.m.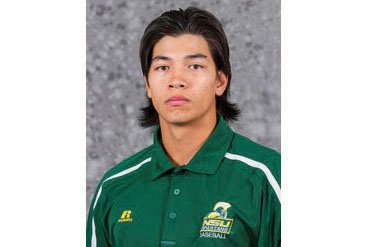 It was almost like Alex Mauricio went to bed a shortstop and woke up a pitcher.
Mauricio showed off a powerful right arm last spring by throwing out runners from his position as shortstop for Norfolk State University's baseball team.
This summer, he's putting that lively wing to use from a different diamond location — the pitcher's mound.
The 6-foot, 170-pound rising sophomore has made the Valley League All-Star team on the strength of dominating performances coming out of the bullpen.
In 11 relief appearances through July 17 for the Waynesboro Generals, the hard-throwing Mauricio from Manchester High School in Chesterfield County had 29 strikeouts and just eight walks while posting a 1.90 ERA.
His mound menu includes a mitt-popping fastball, slider, curve and splitter (split-fingered fastball).
"I'm throwing in the low 90s (miles per hour) on a good day and I hope to get it a little higher toward the end of the season," he said.
He fired one scoreless inning of relief in the Valley All-Star Game on July 12 in Harrisonburg.
Most of Mauricio's assignments come near closing time, in tense eighth and ninth innings.
"I really don't see it as pressure," he said. "Yes, it puts a lot of responsibility on my shoulders, but I like that."
The Valley League is one of several collegiate, wooden bat leagues around America subsidized by Major League Baseball. Waynesboro is the defending Valley champ.
There were approximately 30 MLB scouts in attendance for this year's Valley showcase.
Mauricio sparkled as a pitcher and shortstop at Manchester High — Class of 2014 — under Coach Ricky Saunders.
His older brother, Jonathan, was a year ahead of Alex at Manchester (Class of 2013) and also plays for NSU.
Jonathan Mauricio is pitching this summer for the Prince George Blue Sox of the Virginia Commonwealth Baseball League.
Alex's role has changed dramatically since NSU's season ended. For NSU, he was primarily the shortstop, hitting .256 and contributing defensively with 35 putouts and 54 assists.
He pitched just two innings for the Spartans.
For Waynesboro, he has become exclusively a pitcher.
"My future may be as a pitcher, but it's too soon to tell," he said. "I still think I have a lot of potential as a shortstop."
At Manchester High, Mauricio was a second team All-Dominion District and Conference 12 performer as both a pitcher and infielder.
Mauricio is the son of Romauld and Carolina Mauricio, who are natives of The Philippines and Nicaragua, respectively.
Baseball is becoming more and more of a multiracial sport at HBCUs. Savannah State University's Charles Sikes, who is white, was named MEAC Player of the Year.  Catcher Connor Andrus, also who is white, was named tournament MVP for CIAA champion Winston-Salem State University.
Whether as a pitcher or middle infielder, Mauricio is hopeful his baseball career will continue past college.
"I'd like to think I'll be good enough for the next level (pros)," said Mauricio, a sociology and criminal justice major.
NSU's only current pro baseball player is Ernie Banks Jr., no relation to the Chicago Cubs Hall of Famer.
From Deep Creek High School in Chesapeake, outfielder Banks was selected in the 44th round of the 2007 draft.
Banks now plays for Garden State Grays of the Canadian-American Association Independent League.