NSU's Alex Mauricio named MEAC Player of the Year
6/2/2017, 11:20 p.m.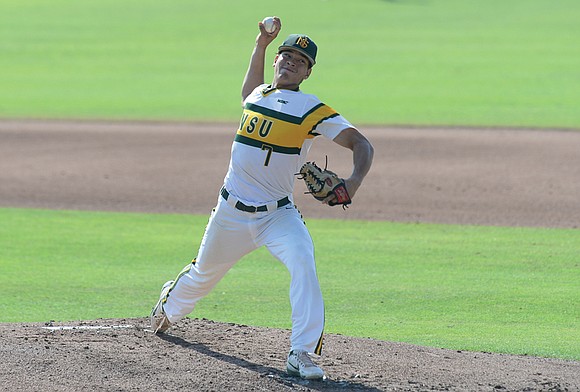 You might say Norfolk State University got a two-for-one deal in Alex Mauricio.
The double-duty Spartan known as "A-Mo" performed admirably as a starting pitcher on the university's baseball team this past season.
And there was no rest for the weary. On days Mauricio didn't pitch, the junior from Chesterfield's Manchester High School filled a spot in the infield or outfield, while batting third or fourth in the NSU lineup.
"I was thinking it might be my last season, so I wanted to make the most it," he told the Free Press. He said he's looking forward to June 12-14 Major League Baseball draft.
"The coaches and I talked before the season about pitching and also playing the infield. I wanted to do all I could to help us win."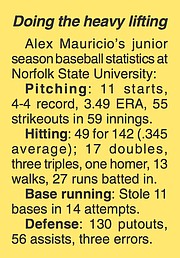 Such versatility, while common in high school, is most rare nowadays in NCAA Division I baseball. Starting pitchers almost never play another position — and if they do, it is generally first base, requiring minimal throwing.
Wearing the lucky No. 7 jersey, Mauricio took a turn at every position on the diamond, except catcher, while becoming the first NSU player to win MEAC Player of the Year.
"It's a great honor to be recognized as the best player in the conference," he said.
NSU finished the season 26-22, losing to Bethune-Cookman University in the MEAC Tournament final in Salisbury, Md.
The 6-foot-1, right-handed Mauricio is also a semifinalist for the John Olerud Award presented annually to the best two-way player — pitcher plus another position — on the NCAA's top tier.
Olerud was a standout two-way player at Washington State University in the late 1980s before embarking on a long pro career.
"In terms of value, having someone who can contribute in so many ways gives us a ton of different options when it comes to what he is capable of doing," said NSU Associate Head Coach Joey Seal.
"Alex's attitude to do whatever we ask has been worth its weight in gold."
Mauricio has an interesting background.
Born in Beverly Hills, Calif., his parents, Romauld and Carolina Mauricio are natives of The Philippines and Nicaragua, respectively. He identifies as a Pacific Islander. The family moved to Chesterfield County when Alex was about 2.
Alex isn't the only star athlete in the family. His older brother, Jonathan, or "J-Mo," just completed his senior baseball season for NSU and often pitched for the Spartans when Alex wasn't.
Both Jonathan and Alex were baseball and volleyball standouts at Manchester High before signing with NSU Head Coach Claudell Clark.
Alex's career is rumbling toward a crossroads. He hopes to hear his name called in next month's draft. Division I baseball players become eligible for the draft after their third year in college.
"That's my dream," Mauricio said.
There are no guarantees, however. If not drafted high enough to justify signing professionally, he likely will play this summer for the Peninsula Pilots in Hampton of the Coastal Plain College League like he did a year ago.
Then he would likely return to NSU to play as a senior and finish his degree in sociology/criminal justice.
On the pro level, Mauricio will have to decide — or his employer will decide for him — whether he will continue pitching or playing the field.
There are no two-way players in pro baseball.
And there aren't many left in college ball, either. That's what has made Alex Mauricio so special in the Spartans' green and gold.