Personality: Robin M. Brown
Spotlight on Grand Worthy Matron of the Order of the Eastern Star
7/24/2015, 10:12 a.m. | Updated on 7/24/2015, 2:32 p.m.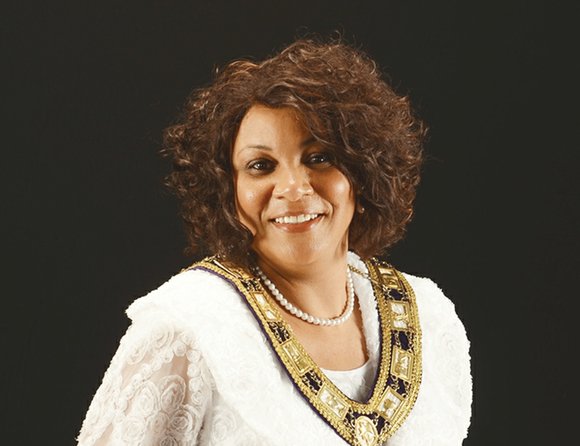 Robin M. Brown seeks to make a positive difference in the lives of children and others in the community.
That's why she joined the Richmond-based Order of the Eastern Star of Virginia at the behest of her mother-in-law, Erma R. Brown, in 1996. The fraternal organization is affiliated with the Most Worshipful Prince Hall Grand Lodge of Virginia Free and Accepted Masons.
Nearly two decades later, Mrs. Brown heads the people-helping organization as its 57th Grand Worthy Matron. She ascended to the position from her previous post as Grand Associate Matron.
The Prince George County resident was elected to a two-year term in July 2014.
The organization is "based on the Bible" and works "to enhance the community," according its website. Mrs. Brown, 52, is presiding this week over the organization's 114th annual convention at a Chesterfield County hotel. More than 600 delegates, Masons and Sisters from surrounding jurisdictions were expected at the four-day event that concludes Thursday, July 23.
On Monday night, organizers kicked off the convention by awarding more than $30,000 in scholarships to college-bound students, as well as to several charitable organizations, including the United Negro College Fund.
Mrs. Brown says her No. 1 goal is to "encourage members to work together in love and unity to increase our membership." The best way to achieve that goal is "to display those qualities" herself, she says. So she is "working in harmony" with Roger C. Brown, (no relation) most worshipful grand master of the Prince Hall Grand Lodge of Virginia "to spread that same love to our membership," Mrs. Brown says.
The Virginia order enjoyed a peak membership of about 10,000 in the 1980s, she says.
Today, statewide membership stands at about 3,600 members, she notes, with about 1,000 members in Metro Richmond. Mrs. Brown says her next goal is to run for the position of vice president of the Conference of Grand Worthy Matrons at a national conference to be held in New Jersey.
Stay tuned.
Here's a look at this week's Personality, Robin M. Brown:
Occupation: Paralegal for a personal injury law firm.
Date and place of birth: Nov. 21 in Chesterfield County.
Education: Graduated from Midlothian High School and attended Commonwealth College.
Family: Husband, Floyd M. Brown Jr., one daughter, Regan, and four sons, Demond, Ethan, Geran and Thomas.
Number of district and chapters in Richmond: Richmond has two Eastern Star Districts.
District #5 chapters — Richmond #1, East End #79, Carey Wheaton #204, Fannie Lewis #4, Nannie J. Perkins #161, Queen Ebony #241.
District #35 chapters — Hannah #26, Henrico #78, Elizabeth Harris #86, Mary C. Stewart #128, Eva M. Jackson #211, Elizabeth S. Spurlock #236.
No. 1 project with Eastern Star now: My current project is the Triple Crown Contest, which gives each individual an opportunity to display his or her ability to lead.
Next up: In September, we will join Most Worshipful Grand Master Roger C. Brown as he convenes the Prince Hall Grand Lodge of Virginia's 14th Annual Communication in Hampton.
The power of the Grand Worthy Matron: To oversee the direction and future of this organization. The Grand Worthy Matron is like the CEO of any company.
What is expected of a Grand Worthy Matron: It is my responsibility to maintain peace and harmony within our organization.
How the public perceives OES members: Many people are not familiar with our organization. But for those who are, they perceive us to be ladies in white dresses who belong to a secret organization.
How OES members desire to be perceived: We do not want to be perceived as a secret organization because we are working in the communities giving charitable donations.
The biggest challenge to Eastern Stars and Masons: To have the public understand exactly what we do to help the greater community.
Definition of a leader: Someone who has the ability to influence others through respect and not fear.
If I had more time, I would: Find other ways that our organization can help the greater community.
Favorite late-night snack: Life Savers Gummies.
Three words that best describe me: Dedicated, caring and honest.
I place top value on: Doing the right thing.
Book I'm now reading: "The Hunger Games" by Suzanne Collins.
Best time of my life: Every day is the best time of my life!