Personality: Roger C. Brown
12/5/2014, 6 a.m.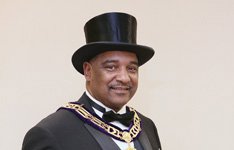 In his day job, Roger Cornelius Brown is a computer specialist who helps keep banking information fl owing smoothly.
Off the job, the 58-year-old Henrico County resident is the leader of the Prince Hall Grand Lodge of Virginia, one of the oldest African-American groups in the state.
He proudly bears the title of most worshipful grand master — equivalent to president and chief executive offi cer — of the independent, Richmond-based Grand Lodge of Virginia, Free and Accepted Masons.
He is the 78th leader of the Virginia Grand Lodge that dates to 1875. But he notes the roots go far deeper, back to the American Revolution a century earlier, specifically to Boston in 1775.
The organization's mission and values are just as noteworthy today as they were at the start.
"Our purpose as Masons is to dispense charity, promote family values and endeavor to signifi cantly aid in uplifting humanity," he says.
"We're a fraternal group that takes good men and makes them better," he says. "Our members are people of good moral character who love their families and are involved in their community."
Mr. Brown can recite the history like a college professor: British troops garrisoned in Boston took the unusual step of admitting Prince Hall and 14 other black men into a military Masonic lodge — in contrast to the rejection that Prince Hall and the other men received from all-white colonial lodges.
After the English force was driven out, the history lesson continues, Prince Hall led the founding and eventual chartering of African Lodge No. 1, the fi rst lodge with a predominantly black membership in America.
Prince Hall became the fi rst grand master. Later, after his death, the lodges and organizations that grew out of the original lodge adopted his name.
Mr. Brown and others have carried on the tradition and ignored the bigotry of their white Masonic counterparts. It took more than two centuries for most of the predominantly white Masonic lodges to accept African-American members or recognize Prince Hall Masons. Virginia's white Masonic organization, whose members describe themselves as ancient, free and accepted Masons, did not fully recognize Prince Hall Masons and the Grand Lodge Mr. Brown leads until 2003.
For Mr. Brown, the big challenge for the Grand Lodge he heads is h
ow to attract young men. Like many fraternal groups, membership in the Prince Hall Masons is waning. Today membership in the Grand Lodge is less than onethird of the peak membership of 18,000 of 30 years ago.
"We hope to turn this around," Mr. Brown says.
One way, he says, is for Prince Hall Masons to tell people in their respective communities more about the good that Masons do.
Meet Roger C. Brown, the new leader of the Prince Hall Masons in Virginia, who is striving do just that:
Birth date and place: June 14 in Charlottesville.
Current home: Henrico County.
Alma maters: Louisa County High School, 1974; Randolph- Macon College, in Ashland, bachelor's degree in psychology, 1978.
Family: Wife of 30 years, Brenda Coleman Brown, a nurse, married 30 years; two daughters, Stacie L. Brown, 28, a singer, and Stefany L. Brown, 22, a chef.