Cleveland, Golden State gear up for NBA Finals
Fred Jeter | 6/5/2015, 7:59 p.m.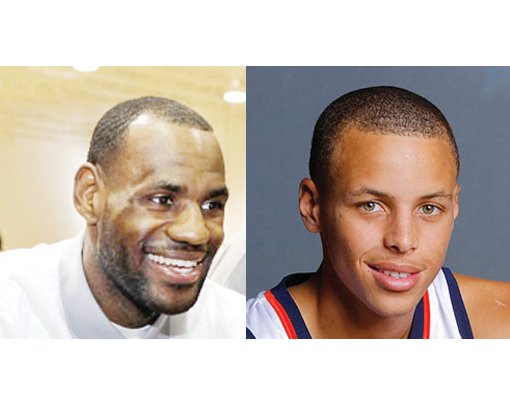 The spotlight couldn't get any brighter or the stakes any higher. Professional basketball's annual main event is about to tip off.
This year's NBA Finals, with the Cleveland Cavaliers against the Golden State Warriors, features two piping hot teams and a pair of the world's premier individual talents.
Each squad is oozing with momentum.
Cleveland posted a 12-2 playoff record en route to the final, while Golden State dispatched three playoff foes with a 12-3 mark.  
There is star appeal aplenty.
Cleveland's do-it-all LeBron James is a four-time League MVP. Golden State's Stephen Curry, considered one of the greatest shooters of all time, was MVP this season. 
This NBA season started with 30 teams hungry for success. The list was pared to 16 for the playoffs.
Now it's down to two — two powerful teams and two superstars, each yearning to earn the year's final hurrah.
How they arrived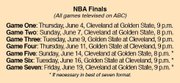 Western Conference champion Golden State was 67-15 during the regular season. In the playoff series, the Warriors defeated New Orleans 4-0, Memphis 4-2 and Houston 4-1.
Eastern Conference champion Cleveland was 53-29 during the regular season. In the playoff series, the Cavaliers defeated Boston 4-0, Chicago 4-2 and Atlanta 4-0.
Venues
Games 1, 2, 5 and 7 are scheduled for the Warriors' Oracle Arena in Oakland, Calif., with a seating capacity of 19,596.
Games 3, 4 and 6 are scheduled for the Cavaliers' Quicken Loans Arena in Cleveland, Ohio, with a capacity of 20,567.
Playoffs statistics for the leaders
Warriors scoring: Stephen Curry, 29.2 points; Klay Thompson, 19.7; Draymond Green, 14.0; and Harrison Barnes, 11.3. Rebounding: Green, 10.8 and Andrew Bogut, 8.6. Assists: Curry, 6.4; Green, 5.3. Cavaliers scoring: LeBron James, 27.6 points; Kyrie Irving, 18.7; J.R. Smith, 13.5; and Iman Shumbert, 10.1.Rebounding: James, 10.4; Tristan Thompson, 9.9; and Timofey Mozgov, 7.2 Assists: James, 8.3; Irving, 3.7; and Matt Dellavedova 2.6.
Injury bug
Golden State: Klay Thompson suffered a concussion in Game 5 against Houston and his status for the final remains unclear.
Cleveland: Missing star forward Kevin Love (shoulder surgery); Kyrie Irving has been limited with a leg injury.
Foreign flavor
Golden State: Native Nigerian (by way of Vanderbilt) Festus Ezeli, at 6-foot-11, 265 pounds, has playoff averages of 3.2 points, 3.0 rebounds.
Cleveland: From Russia, 7-foot-1 and 250 pounds, Mozgov averaged 9.1 points and 7.2 rebounds in the playoffs.
Past success
Golden State: The Warriors' last NBA title was in 1975. Al Attles was coach and Rick Barry was named MVP.
Cleveland: The Cavaliers have never won an NBA title. The team's only other trip to the final was in 2007, during James' first stint with the franchise.
Virginia connections
Golden State: Back-up forward James Michael McAdoo played at Norfolk Christian and collegiate ball at the University of North Carolina; Curry is the son of Dell Curry, who played at Fort Defiance High School in Augusta County and Virginia Tech.
Cleveland: Back-up guard Joe Harris is a rookie from the University of Virginia.