Golden State takes NBA title
6/16/2017, 1:05 p.m.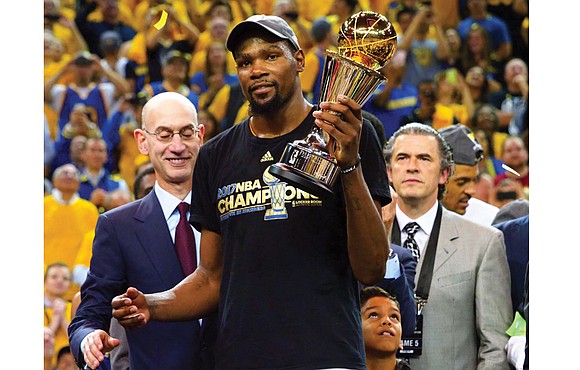 These two questions loom following the Golden State Warriors' fairly easy stroll to the NBA championship on Monday night:
With a youthful, 20-something nucleus, will the Warriors — fueled by the high-test addition of Kevin Durant — continue to dominate the game for years to come?
And how much longer will LeBron James remain in Cleveland?
The Warriors earned their second NBA title in three seasons on Monday with a 129-120 win over the Cleveland Cavaliers in Game 5 of the best-of-seven series in Oakland, Calif.
Coach Steve Kerr's juggernaut went 16-1 in the playoffs. It was the best winning percentage ever in postseason, surpassing the Los Angeles Lakers' .938 in 2001.
In reaching the final, Golden State rolled to 4-0 playoffs sweeps of Portland, Utah and San Antonio.
The average winning margins were 15.5 points against the Portland Trail Blazers, 15 points against the Utah Jazz and 16 points against the San Antonio Spurs.
Of Golden State's 15 victories, only twice was the team's winning margin less than double digits. 
Dictating an up-tempo pace, the Warriors averaged a whopping 122 points against the Cavaliers.
Don't expect much drop off in coming seasons. Youth as well as extreme talent are the Warriors' allies.
Durant, who was named MVP, is 28. Draymond Green and Klay Thompson are 27. Steph Curry is 29.
There are two basic differences between this year and last, when the Cavs beat the Warriors 4 games to 3 to win the championship.
Green, who was suspended for poor sportsmanship in the final three games a year ago, kept his cool this go-round.
Then there is the Durant factor.
Joining the Warriors this season as a free agent following a stint with the Oklahoma City Thunder, the 6-foot-9 Washington, D.C., native was brilliant throughout the playoffs, averaging 28.5 points.
He saved his best for last, averaging a whopping 35.2 points against Cleveland. In clinching Game 5, Durant tallied 39 points. Curry followed with 34.
So what about James?
"King James," as he is called, left his hometown team once before to join fellow superstars with the Miami Heat.
In three seasons in his second stint with the Cleveland Cavaliers, James, who turns 33 in December, has paced the Cavs to three NBA finals, winning one.
He is under contract with Cleveland through 2017-18, the final season of a three-year pact worth about $100 million.
When his contract ends — or some blockbuster trade is made — there is speculation he may head to southern California to play with the Los Angeles Lakers or the Los Angeles Clippers.
James owns a home about a half hour from the Staples Center, which is home to the Lakers and the Clippers, and has started a production company, SpringHill Entertainment, in the same area.
The powerful and versatile James was brilliant, as usual, in Game 5 against the Warriors. He was 15-for-25 from the floor and scored 41 points to go with 13 rebounds and eight assists.
Some wonder how much tread is left on the tires in a brutally demanding sport.
For his illustrious career, James has logged 50,312 minutes, second only among active players to Dirk Nowitzki.
James joined Cleveland in 2003, straight out of high school. He played his first seven seasons with the Cavs before going to Miami for four seasons, winning titles in 2012 and 2013.
Overall he has three championship rings. James is often referred to as the GOAT — Greatest Of All Time. He is most compared to Michael Jordan, who won six crowns with Chicago.
He still may have time to catch Jordan, but even "kings" don't rule forever.