Lettie Coleman Madison, 105, developed social work department at VUU
6/5/2015, 11:21 p.m. | Updated on 6/5/2015, 11:21 p.m.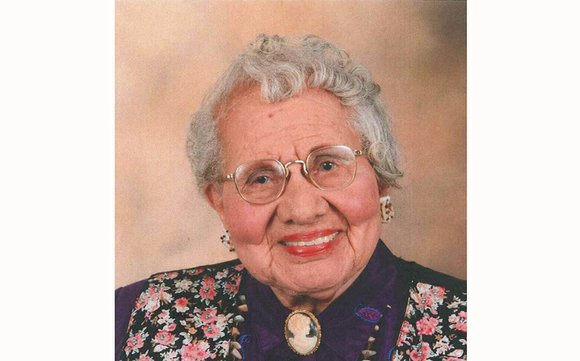 For more than a century — 105 years to be exact — Lettie Coleman Madison used her vast reservoir of talents and experiences to help transform the lives of others.
The daughter of a sharecropper and granddaughter of freed slaves, she left no stone unturned while seeking to help others.
She was a lifelong advocate for human rights as a social worker, college professor, author, philanthropist, church member and, later, as a retiree.
"I have been able to turn many of the stumbling blocks I faced into stepping stones," Mrs. Madison wrote in 2004 correspondence to the Free Press. "I tried to develop those talents with which God has endowed me."
Among her proudest accomplishments: She developed Virginia Union University's Department of Social Work from a single course to a department with full accreditation after she joined the faculty in 1965.
Mrs. Madison is being remembered following her death Saturday, May 23, 2015, in Richmond. She was 105.
Her life will be celebrated at a memorial service 11 a.m. Friday, June 5, at Ebenezer Baptist Church, 216 W. Leigh St., in Jackson Ward.
One of her students at VUU was Mayor Dwight C. Jones, whom she taught sociology.
When Mayor Jones once considered leaving Richmond to take a ministerial position in New Jersey, Mrs. Madison told him he should stay in Richmond because he had a bright future here.
"I loved her very much," Mayor Jones reflected on Monday. "She was an erudite and a class act.
"She was a part of the wonderful cadre of excellent role models in Virginia Union's faculty that took an intimate interest in students and in students' lives," the mayor added. "And she took a special liking to me. I think one reason is that we were both from the North. She had lived in Montclair, N.J., and I was from Philadelphia."
Mrs. Madison retired from Virginia Union in 1977, but continued her lifelong mission to help others in the community for nearly four more decades.
In 2000, Mrs. Madison was honored with a Lifetime Achievement Award by the National Association of Social Workers.
Even in her twilight years, she was a beacon of hope and inspiration to others, particularly in spotlighting the achievements of the African-American community.
Mrs. Madison started a black history symposium at Westminster Canterbury Richmond, a retirement community on North Side where she lived for more than 25 years. It later was named the Lettie Madison Black History Month Symposium in her honor and continues today.
Among those who have spoken at the annual February event: Mayor Jones; Judge Roger L. Gregory, the first African-American to serve on the 4th U.S. Circuit Court of Appeals; and Dr. Jamelle S. Wilson, the first African-American superintendent of Hanover County Public Schools.
"I was so impressed with her," Judge Gregory said. "She was a woman with such a long and illustrious career who continued to inform and inspire a multicultural audience that could appreciate the power and promise of so many heroes and heroines."