Personality: Lamar Antoine Greene
Spotlight on Richmond Public Schools' highest achieving student
6/5/2015, 6:14 p.m.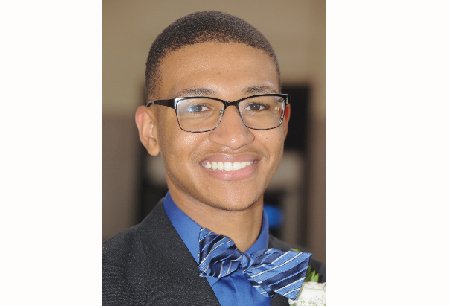 Lamar Antoine Greene draws his inspiration to be a classroom standout from his mother, Kimberly Greene, who is a dental assistant.
"I am motivated to study because I have seen how hard my mother works to provide for me and it has made me so humble and independent," he says. "I want to make a decent living for myself while utilizing my skills and talents to help others." The goal-driven young man says he set his focus on being the top student in his class academically at Richmond Community High School on North Side "since my freshman year."
Lamar can now proudly proclaim, "Mission accomplished!" as he puts the finishing touches on the valedictory address he will deliver Wednesday, June 10, at the Altria Theater, during Richmond Community High School's Class of 2015's commencement.
His 4.9 GPA also ranks him as No. 1 academically among Richmond Public Schools' 1,209 graduates. He attributes his classroom success to "my strong work ethic, natural curiosity and resilience."
"I have no set amount of time that I devote to studying," he adds. "I study the material until I feel comfortable with it and I know that I know it."
He says the climb to the top of the academic mountain has not always been easy.
"Attitude is so essential to scoring high," he says. "It is important not to be discouraged by setbacks and to work through rough patches."
Lamar's stellar classroom work has attracted scholarship offers from more than a dozen colleges and universities totaling more than $1 million, with the scholarship amounts ranging from $50,000 to nearly $240,000.
After studying the offers, he selected Emory University in Atlanta, where he will matriculate in the fall backed with $50,000 in scholarship money.
"I chose Emory because I felt it was the best out of state college that met my personal needs and career goals while still being affordable," he explains.
He says he would like to become a physician or health care executive.
Not just locking himself into a room to study night and day, Lamar also has excelled in many other community-improving roles.
Among them: He is president of the school's Key Club, co-chair of the Honor Council, historian of his school's Future Business Leaders of America chapter, yearbook editor, vice president of the Mu Alpha Theta math honor society and a member of Partnership for the Future. He also has volunteered with the Boys & Girls Clubs of Metro Richmond and completed an internship with Health Diagnostic Laboratory in Jackson Ward.
Here's a look at this outstanding student scholar, Lamar Antoine Greene:
Date and place of birth: July 6 in Richmond.
Current place of residence: Richmond.
Reaction to valedictorian honor: I was excited and relieved.
Family's reaction: My family has expressed how proud they are of me and that they know I will continue to excel in life.
Main point I will make in valedictory address: I really want to express my gratitude to everyone who helped me and to stress the point of everyone in my graduating class staying true to themselves.