Personality: Samantha Ayres
Spotlight on Richmond Public Schools' highest achieving student
6/2/2017, 10:47 p.m.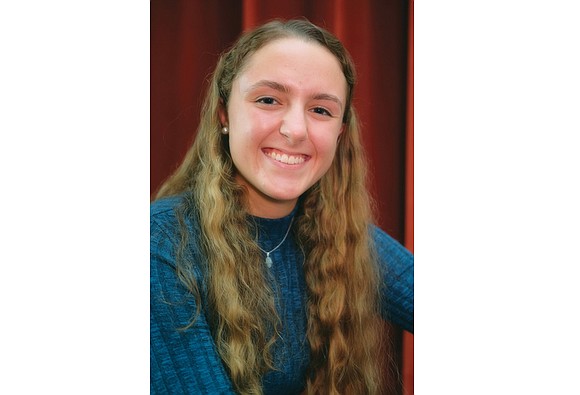 When Samantha Lynn Ayres began her sophomore year at Richmond Community High School, she found out that she was third academically in her class of 53 students. Knowing she was so close to being at the top of her class, her competitive spirit kicked in. That's when she says she decided to put in some extra effort.
"I thought to myself that maybe I could be No. 1, so why not try?" she says.
Now Samantha is graduating as valedictorian of her class at Richmond Community High School. With a 4.91 GPA, she also is the top student among the 1,119 graduates this year in Richmond Public Schools.
Her high academic achievement, SAT scores and extracurricular activities have won her scholarship offers from several colleges and universities, including a full, four-year scholarship she has accepted from the University of Richmond.
Samantha admits that earning the top spot has not come easily with her rigorous course load of Advanced Placement classes that she began as a sophomore. The 18-year-old says her coursework regularly required one or two hours for homework most nights, with some nights requiring up to five hours of study.
But buckling down with the books has been worth it.
"I am very proud of myself and delighted to know that my hard work has paid off," Samantha says about her honor as RPS' top student for 2017.
"My family is extremely excited and proud of my accomplishments," she says of her mom, Carrie Ayres, a hairstylist, and her dad, Michael Ayres, a food purchasing manager.
At the University of Richmond, she plans to major in biology. "I have always dreamed of becoming a doctor," Samantha says. "I want to become a pediatrician."
One consistent activity that has given Samantha a break from her schoolwork has been sports. She started playing softball in her backyard with her dad at an early age. Because Richmond Community High did not have a team, she played for Huguenot High School's softball team during her four years in high school. This year, she is captain of the team.
"I've been playing my whole life, starting on a team in the third grade," she says. "I found out I was pretty good at it, and it was a way to have fun apart from my schoolwork."
But one sport was not enough for this high achiever. Samantha also has played volleyball for the past two years as well, and also is captain of that team.
As if her schedule was not busy enough, Samantha has volunteered 150 hours with the Richmond SPCA, participated in other school clubs and organizations and just started working part time at a local drugstore to earn a little extra cash. Along the way, support from friends and family has been essential, she says. And feeding her competitive spirit has helped push her to her highest performance yet.
"We're all supportive of each other," she says of her classmates. "And friendly competition is something we've used to push one another."