Personality: Miasia Keana Scruggs
Spotlight on Metro Boys & Girls Clubs 2015 Youth of the Year
6/12/2015, 6:16 p.m. | Updated on 6/12/2015, 6:16 p.m.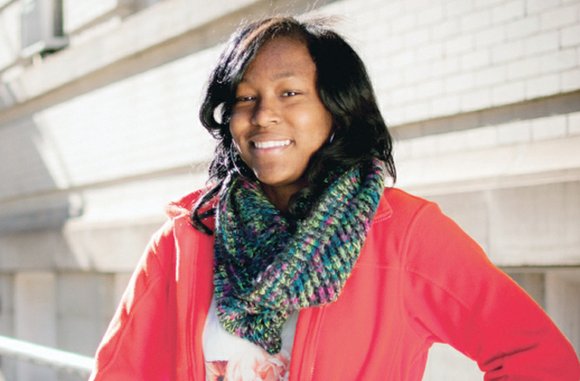 When Miasia K. Scruggs joined the Fairfield Court Club of the Boys & Girls Clubs of Metro Richmond as an elementary school student, she had no idea it would be a life-changing move.
"Several of my friends used to talk about this great place and how awesome it was," Miasia recalls. "I begged my mom to take me there and sign me up, and the next day I became a member."
She says the club became her "safe haven and home away from home."
"You are able to be yourself and open up to adults who become your 'club parents,'" she says. "You don't have to worry about bullying, not being able to understand homework or having a good meal to eat. The club provides it all."
Miasia got involved in club activities and quickly impressed her peers with her commitment to excellence in and out of the club.
The young lady with the fetching smile now volunteers at the club, where she helps mentor other young people. She also works part time at a convenience store.
The outstanding high school senior graduated earlier this week from Armstrong High School with a 3.125 GPA.
Miasia was honored for her all-around excellence by being named the Boys & Girls Clubs of Metro Richmond's 2015 Youth of the Year. She receives a $15,000 scholarship that she plans to use toward her college education.
Miasia "exemplifies strength, dedication and grace," the Boys & Girls Clubs of Metro Richmond stated on its website in recognizing her honor. "Her commitment to her community is inspiring and together with her academic success and leadership skills, she has been awarded the highest honor in our organization."
Miasia was thrilled by the honor.
I was filled with so much joy," she recalls. "This is the ultimate award as a member that you can achieve. As I stood on the stage with the other outstanding youth candidates, I was nervous."
The Boys & Girls Club of Metro Richmond was founded in 1945 and today has five clubs — four in Richmond and one in Petersburg — with more than 1,200 members.
Miasia also was a finalist for the organization's statewide award.
Here's a look at a high-achieving young community leader, Miasia K. Scruggs:
Date of birth: Nov. 5.
Current home: Richmond.
Family: Mother, Nicole Wyatt, and brother, Keynen Neville, 15.
What motivates me to study: When I see my community and all the negativity. That motivates me to get out and strive to become a better person. I want to lead by example and show the younger generation that you must continue to push yourself to be great, even when obstacles and people may hold you back. You have to be strong! Also, my Mom and Ms. Brown "B" (she works at the club).
What this award means to me: It will give me the opportunity to be able to attend college and not worry about the financial aspect.
My career dream: To work diligently to become an effective social worker and even become a business owner and open my own bakery.
How I plan to accomplish it: I would love to further my education at J. Sargeant Reynolds Community College then transition into Virginia Union University. I want to major in social work. I love to help people find different types of resources so they may better themselves or their community. I would like to continue my education and earn a master's degree at Virginia Commonwealth University and pursue a dual degree in social work and public health.
Perfect day: To wake up and not worry about my family.
Hero: Oprah Winfrey.
Favorite book: "To Kill A Mockingbird" by Harper Lee.
What I'm reading now: "A Lesson Before Dying" by Ernest J. Gaines.
Favorite music artist: Beyoncé.
Hobbies: I enjoy styling hair and makeup, baking pastries and helping others.
If I could have my wish, it would be: To give everyone the opportunity to be happy, even if for one day.
The person who influenced me the most: Ms. Brown "B", Mr. Morris, Mr. Irvin, Ms. Shawneice, Ms. Terry and Mr. Var.
My next goal: To start a healthy baking/cooking class at the clubs in my area.