Personality: Christopher Tate Gabbert
Spotlight on Richmond Public Schools' highest achieving student
6/3/2016, 11:45 a.m.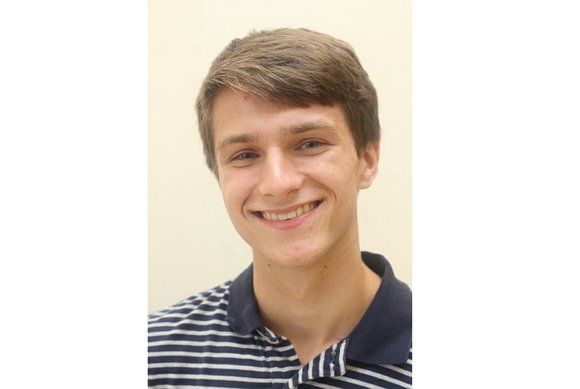 Chris Gabbert doesn't consider himself a bookworm. "I need to read more on my own," explains Chris, an 18-year-old senior at Richmond Community High School. But Chris has been hitting the books — and hard.
Earning a 4.93 GPA during his high school career, Chris is not only the valedictorian at his high school in North Side, he's also the top-ranking student among all 2016 graduates from Richmond Public Schools.
"People have been happy and proud for me," says Chris, a low-key young man who loves science and prefers the outdoors and working with his hands.
"When I'm bored, I like to run or workout or take a soccer ball and go outside and find some friends and hang out," he says. His favorite run is the city's Buttermilk Trail, a part of the James River Park System that follows the riverfront hills below Riverside Drive in South Richmond and extends to the river's northern banks via the Boulevard Bridge.
"It's 6 miles if you cross the bridge," Chris says. "Sometimes, I stop and walk a little, but I enjoy running."
Chris' high school years included engagement in several activities — the National Honor Society, the Environmental Club, the Honor Council, and a year with the soccer team and three years running the 1,600-meter event with the track team at George Wythe High School. Because Richmond Community High doesn't have sports teams, he competed with the soccer and track teams at the high school in his home district.
With his stellar grades, Chris was wooed by many colleges and universities. However, he accepted the offer to study right here in Richmond at Virginia Commonwealth University.
He plans to major in biology — "I always liked all the human sciences" — and will be rooming on campus with one of his best friends from high school who is gravitating toward another STEM field, engineering.
He is looking forward to college and VCU specifically, he says, because "culturally, it's so diverse." "I'm looking forward to learning about different religions and countries," he says.
As for his last summer before entering college, Chris says he is hunting for a job "or anything I can do with my hands, like carpentry or being a carpenter's assistant."
He said he was waiting to hear from a summer program he applied for, but recently learned he was turned down. "Maybe I'll mow lawns or something," Chris says. "I do want to save so I won't have to struggle financially in the fall. I won't have to do work-study," he says, "but I'll have to get loans. By working in the summer, I can save a little on the loans." Here's a look at Richmond Public Schools' Class of 2016 valedictorian, Christopher T. Gabbert:
Latest honor: Earning the distinction of being No.1 among all 2016 Richmond Public Schools graduates.
GPA: 4.93
Current high school: Richmond Community High School.
Size of your high school's Class of 2016: 57 students.
Leadership roles in school activities: Vice president of National Honor Society.
Parents: Wayne Gabbert, an IT specialist for the Virginia Department of Accounts, and Linda Gabbert, a stay-at-home mom.
Sibling: Emily, 19.
Birth date and place: Oct. 1 in Richmond.
Current residence: City of Richmond.
Reaction to valedictorian honor: Excited and honored.
Family's reaction: Proud.
Main point I will make in valedictory address: Ranking doesn't matter; everyone should feel significant.
Universities that made scholarship offers: Bridgewater College, George Mason University, Randolph Macon College.
The university I selected: Virginia Commonwealth University.
Reason: Research opportunities, social diversity and finances.
How attitude figures in scoring high: Always want to improve and eventually you will.
What motivates me to study: Making my teachers in each specific class proud.
A good teacher is: One who respects his/her students as adults rather than just mere children.
Career goal: Still trying to figure that out, but possibly a doctor.
Ultimate ambition: To always want to learn, even when I'm significantly older.
The secret to earning "A's": There is none. Don't just focus on grades, but rather focus on what you dedicate to that class.
Most unforgettable experience at my high school: Charleston "Minimester" trip.
Teacher who influenced me the most: All my teachers influenced me, so it wouldn't be fair to give all the credit to just one.
What I like most about Richmond: Its unique culture and atmosphere that no other city can completely match.
What I like least: That our citizens have to fight for education when schools should be given ultimate precedence.
No. 1 suggestion for improving Richmond: Acknowledge that inner-city education is hard to provide at a satisfactory level, but it can be done.
Perfect day: Hanging out with my family.
How I relax: Sleep — really, it helps.
Best late-night snack: Leftover sandwich.
Three words that best describe me: Kind, joyful and overall positive.
Nobody knows that I: Can be very sappy sometimes.
The persons who influenced me the most: My parents and sister.
What I'm reading now: I'm thinking about what new book to start now.
My next goal: Graduate college.