Personality: Harold Aquino-Guzman
Spotlight on Richmond Public Schools' highest achieving student
6/17/2021, 6 p.m.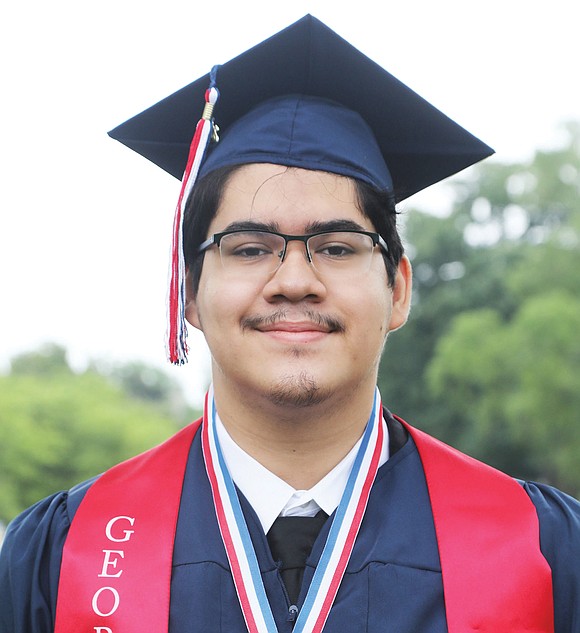 Harold Aquino-Guzman has a lot to celebrate this month.
The George Wythe High School senior class president is not only the valedictorian at the South Side school, he is the top achieving student in Richmond Public Schools with a GPA of 5.1392.
He has the honor of speaking at George Wythe's commencement on June 23. And just three days after graduation, he turns 18.
Harold has accomplished a great deal in a short time. As a student in RPS' dual enrollment program, he has been taking classes at George Wythe as well as at Reynolds Community College, John Tyler Community College and Virginia Commonwealth University.
When he graduates next week, he will have earned his high school diploma and three associate degrees – in computer science, mathematics and social sciences.
He will enter VCU in the fall, but not as a freshman. He hopes to finish his undergraduate degree in a year.
Asked in a recent interview how he feels about his accomplishments, Harold replied, "Honestly, I don't feel any different than any other day."
His parents learned about their son's status as valedictorian and the city's top student from friends and the media. It was a shock, he says.
"I forgot to tell them," he says. "They were really surprised. I guess it was because they knew how I struggled during middle school and I didn't really tell them much about high school besides that I was taking college classes at night in ninth grade."
Harold is not the only high achiever in the family. His sister, Rocio Aquino, was George Wythe's valedictorian in 2018. She graduated from VCU this year with a master's secondary education.
He plans to follow in his sister's footsteps at VCU to pursue a career as a math educator.
Acceptance letters have poured in from a dozen colleges and universities, with scholarship offers totaling more than $1 million. But Harold has chosen to attend VCU, his dream school, he says. And he has earned enough college credits through the dual degree program that he can enter as a college senior in the fall.
His ultimate goal is to return to George Wythe as a math teacher.
"I want to come back and give other students the same opportunities Wythe gave to me," he says.
He says the last two years of high school have been challenging for him and all RPS students. Virtual learning during the coronavirus pandemic placed undo academic and emotional strain on students, families and their daily lives.
Harold says his saving grace was his ability to schedule and manage his time.
"Another thing that helped me get through all of the changes was asking for help," he says. "That was one of the best tools for me to get through virtual learning."
He says he contacted VCU teachers and alumni for assistance while he was taking mathematics modeling and introduction to mathematical reasoning classes at VCU.
"The coronavirus problem had an impact on my working, but it wasn't enough to bring me down," he says.
He offers this bit of advice for RPS students:
"Always ask for help. Asking for help is by far one of the best things you could do. Teachers are always there to help.
"Secondly, always look for opportunities. Always feel free to take healthy risks. You will never know how those risks will help you down the road."
Meet a high achiever and this week's Personality, Harold Aquino-Guzman:
Latest honor: Earning the super distinction of being No. 1 among all 2021 honor graduates for Richmond Public Schools.
GPA: 5.1392.
High school: George Wythe High School.
Size of school's senior class: 194 students.
Leadership roles in school: Senior class president at George Wythe.
Parents' names and occupations: Mauricio Aquino, a factory worker, and Teresa Aquino, a domestic worker.
Siblings: Sister, Rocio Aquino, 21. She also was valedictorian at George Wythe in 2018. She graduated this year with a master's in secondary education with a concentration in English education.
Date and place of birth: June 26, 2003, in Richmond.
Where I live now: Richmond.
Reaction to valedictorian honor: It was a big surprise. My goal wasn't really to become valedictorian but to make sure that I took advantage of every educational opportunity possible. I wasn't able to get into any Governor's School or specialty schools when I was in middle school, so it was important to me that I pushed myself to the limit so that I could be ready for the real world when I graduate.
Family's reaction: I forgot to tell them and they found out through the news from other people. They were really surprised. I guess it was because they knew how I struggled during middle school and I didn't really tell them much about high school besides that I was taking college classes at night in ninth grade.
Main point I will make in valedictory address: Teachers are the ones who help set the foundation for our future, and thanking the people who supported me to get to where I am today.
Universities that made scholarship offers with amounts: Numerous.
Total amounts: More than $1.1 million.
University I selected and why: I selected Virginia Commonwealth University. I will be able to walk next fall with 112 college credits transferred and finish my bachelor's in May 2022, and hopefully I will be able to enter into the RTR, or Richmond Teacher Residency, program to become a mathematics teacher. I especially want to be able to teach dual enrollment courses so that other students in Richmond Public Schools can have the same opportunities I had.
How attitude impacts scoring high: It's all about believing in yourself. You have to remove that mental roadblock of what you think you are limited to before you can truly succeed and reach your full potential.
What motivates me to study: I like solving problems. It's like solving a puzzle. That's why I like studying math as my favorite subject. I'm not the strongest at math, but I know I can get better by solving more math problems, just like how I get better at solving puzzles by doing more puzzles.
How much time I devoted to study: It depends on the subject. I know I spent a lot of hours studying for calculus II, multivariable calculus and linear algebra. College chemistry took a lot out of me as I never took high school chemistry. I spent a lot more time studying for individual classes when I took OPER 327 Mathematical Modeling, MATH 300 Introduction to Mathematical Reasoning and MATH 404 Algebraic Structures and Functions at VCU this year. Math is no longer just about numbers, but also how you prove something is right or not.

What really makes me smart: I would consider myself an average student. I don't really understand everything right away, but I do try. Trying and not giving up is how you become smarter every day, in my opinion.
A good teacher is: One who ultimately cares about their student's success. Mr. Kakim Fung, my mentor and former math, history and English teacher, never gave up on me, even when I thought I would fail. He took a chance on me, even when I got bad grades in middle school. Teachers like him don't really care how you start out, only that you want to become better.

Career goal: Ultimately, I want to become a dual enrollment teacher at George Wythe High School and help other students earn college degrees in computer science and/or math.
Ultimate ambition: I want to give more high school students the opportunity to enter into computer science internships in high school.
Secret to earning "A's": Asking for help when you need help. This is something that people may find hard to do, but it is a virtue of being a good student.
Biggest adjustments I've made during pandemic: My sleep schedule.
Silver lining of pandemic for me: I didn't have to travel to my classes as much. I did not miss going to class until 11 p.m. and coming home to do homework.
Resilience is: Setting a goal and attaining it, no matter what.
Most unforgettable high school experience: When I first started taking college classes in ninth grade, Mr. Fung's car broke down when we were getting course materials. It led to a day of wonder and adventure and I got to understand what life was like when it brought unexpected challenges.
Teacher who influenced me the most: Mr. Kakim Fung. He showed me how fun math was and how it related to different areas. I did not think it would be possible to earn multiple college degrees in high school, but he encouraged me to advocate for myself to have educational opportunities that would not have been otherwise available. He also is helping other students who want to have similar opportunities as well. I am in awe that he is currently paying out of pocket for students right now to be able to take college courses. I hope people recognize that he supports George Wythe High School with all of his heart and passion.
Hobbies: Yu-Gi-Oh! Duel Links and collecting action and bobble head figures.
A perfect day for me is: Feeling that I achieved something productive.
Quote that I am inspired by: "No Excuses, Only Choices" – Reva Green, former principal of George Wythe High School.
Best late-night snack: Chips and salsa.
Three words that best describe me: Quiet, calm and collected.
Something I love to do that most people would never imagine: Walking near the James River.
Persons who influenced me the most: Rocio Aquino, my sister, and Mr. Fung.
What I would like to change in the world: I want all students in high school to have the opportunity to earn bachelor's degrees.
What I would like to change in my community: I want them to know that education is a very powerful investment and that it can get you farther into the future than dropping out.
My outlook for the future: I hope to earn my master's in 2023.
Kindergarten taught me: How to have fun in school.
Book that influenced me the most: I don't really read books all that much. But there is one film that inspired me, "Stand and Deliver." It showcases a math teacher who went against the odds to get students who were behind in math to be able to reach success in calculus. In a way, I can sort of relate as I was not able to take algebra I in middle school. But when I decided to catch up by taking algebra I and precalculus in ninth grade, I decided that I had the desire to study advanced math.
What I'm reading now: "The Shining" by Stephen King.
My next goal: Earn my bachelor's degree in one year.