Dolezal case stirs up public dialogue on race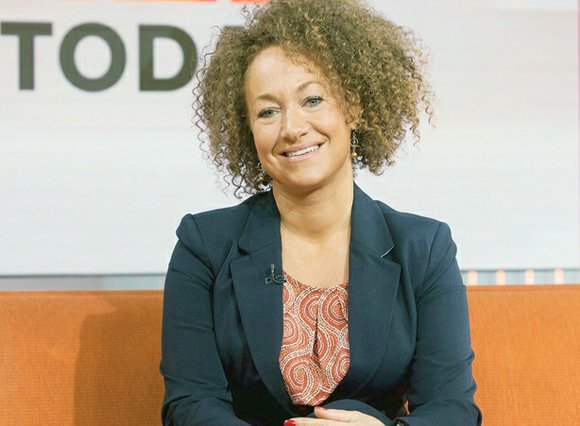 Rachel Dolezal has become the talk of the nation.
The once obscure NAACP leader in Spokane, Wash., jumped into the spotlight in recent days when her estranged family publicly called into question her claim to be a black woman in newspaper and TV interviews.
The tale of a white woman who insists on being regarded as a black woman touched a nerve and quickly went viral on social media — sparking widespread discussions about racial identity.

Race is a touchy subject, but in this country, it's like religion — in general, you are who you say you are. There are no membership cards to be checked.
Clearly, the fascination with the story was, in part, triggered by the reality that Ms. Dolezal, despite her statements to the contrary, was born to two white parents, has light skin, blue eyes and hair that has gone from blonde to brown.
The intense scrutiny has had consequences for Ms. Dolezal, dimming her star as a civil rights advocate in Spokane where she has lived for about two years after a stint as a human rights advocate in the Idaho community of Coeur d'Alene.
On Monday, she stepped down as president of the Spokane Branch NAACP in seeking to turn down the spotlight, all the while still defending her self-identification as a black person.
"There are questions and assumptions swirling in national and global news about my family, my race, my credibility," she told an interviewer before she resigned.
An artist and a part-time instructor in Africana studies at Eastern Washington University until last Friday when her contract ended, Ms. Dolezal also is facing questions from the City of Spokane that could end her other public role as volunteer chairwoman of a police oversight commission.

The multiracial NAACP, the nation's oldest and largest civil rights group, has largely been supportive of Ms. Dolezal, who began serving as president of the Spokane branch in January.
The NAACP "is not concerned with the racial identity of our leadership," said Cornell William Brooks, national president of the NAACP, whose founders 109 years ago included white as well as black activists.
Echoing comments from the NAACP in Spokane and in chapters elsewhere, Mr. Brooks said, "We encourage Americans of all stripes to become members and serve as leaders in our organization."
The concern about Ms. Dolezal "is not about race, it's about integrity," said the Rev. Al Sharpton, the political commentator and founder and leader of the predominantly black National Action Network. "There are white people in all of our organizations and there are whites in the civil rights movement."
Similar views were heard in Richmond where people seemed more focused on Ms. Dolezal identifying an unrelated black man as her father, misrepresenting her race on government forms and referring to her curly, darkened hair as "natural" despite growing up with straight blonde hair. She also has told stories about receiving threatening and abusive letters and of being assaulted because of her race.

Those items drew the most attention from callers, said Jack W. Gravely, a talk show host on WLEE News Talk 990 radio in Richmond and interim executive director of the Virginia State NAACP.