State office building to be named for Barbara Johns
1/20/2017, 7:58 p.m.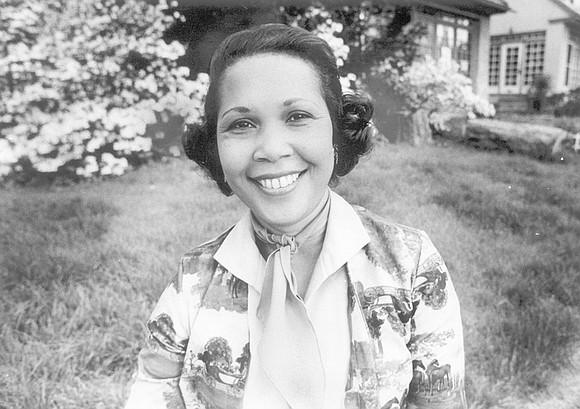 By Holly Rodriguez and Jeremy M. Lazarus
Gov. Terry McAuliffe is naming the newly renovated state office building at 9th and Grace streets for civil rights trailblazer Barbara Johns, who as a teenager led the 1950s attack on government-enforced racial segregation of public schools in Virginia.
He made the surprise announcement last Friday during the 39th Annual Community Leaders Breakfast at Virginia Union University, a community gathering that celebrates the life and legacy of Dr. Martin Luther King Jr.
The governor's announcement received overwhelming applause from the audience of several hundred people.
They also were treated to a speech from Marc H. Morial, president and CEO of the National Urban League, and the presentation of the MLK Lifetime of Service Award to the Rev. Andrew "Jack" White, a VUU alumnus and retired pastor of Zion Baptist and Union Branch Baptist churches, who was recognized for his service to the community.
However, the governor's statement was a highlight of the program.

"When we name our state buildings after people from our history, we make a statement that the work done within those buildings will advance their legacy," the governor said.
In this case, the building houses the Office of the Attorney General, and Gov. McAuliffe said, "I cannot think of a better person to inspire the men and women who fight for justice and equality (in that office) than Barbara Johns."
In announcing the new name, Gov. McAuliffe was joined on the dais by Virginia Attorney General Mark Herring and Lt. Gov. Ralph Northam.
Ms. Johns is best known for organizing and leading a student walkout in 1951 from dilapidated R.R. Moton High School in Farmville. The strike was held to protest the miserable condition of the school that black students were forced to attend in sharp contrast to Prince Edward County's new and well-furbished white high school.
Then a 16-year-old junior, Ms. Johns' courageous action led to an NAACP lawsuit that Richmond lawyers Oliver W. Hill and Spottswood Robinson III brought against Prince Edward County attacking racial segregation in public schools.
That suit became part of the U.S. Supreme Court's landmark Brown v. Board of Education decision in May 1954 that struck down "the separate but equal" doctrine that enabled state and local governments to operate separate schools for black and white students and maintain other forms of apartheid.
Ms. Johns and the school strike are featured on the Civil Rights Monument that stands near the Executive Mansion in Capitol Square.
Ms. Johns, who died in 1991, will be the second African-American and one of the rare women to have her name on a state building. The state Department of Agriculture and Consumer Services building within the capital complex is named for Mr. Hill.
Ironically, Gov. McAuliffe announced the honor for the Virginia heroine on Lee-Jackson Day, a state holiday that recognizes the slavery-defending Confederate Gens. Robert E. Lee and Thomas "Stonewall" Jackson.

That didn't matter to members of Ms. Johns' family, who are ecstatic about the honor being bestowed on Ms. Johns and are looking forward to the dedication ceremony, though the date has yet to be announced.
The family learned about the governor's action when a Richmond friend, Terone B. Green, gave them a call after attending the breakfast.
"It's phenomenal," said Ms. Johns' sister, Jean J. Cobbs, now of South Orange, N.J., a retired member of the U.S. Marshals Service. "I'm speechless."
Ms. Cobb said she had no idea her sister was organizing a walkout until it began. "She never told me a thing. I learned about it when it happened," said Ms. Cobbs, who was in Maryland attending a quarterly family meeting.
"When (I) asked her why, she said (she) was concerned I would tell our parents. At the time, I did not realize the student strike would end up being such a monumental event," she said.
Ms. Cobbs said her courageous sister, who was a librarian for 24 years in Philadelphia before her death, would be "so surprised and shocked" at having her name on a Virginia government building.
Robert Johns of Upper Marlboro, Md., now retired after serving 25 years as the executive director of the National Dental Association, is equally happy his sister will be honored in this way.
"Oh my goodness. This is very exciting," he said.
He and Ms. Cobbs shared the news with their two other brothers, Robert Johns and Ernest Johns, and with Ms. Johns' three daughters, Dawn J. Collins, a housewife in Apex, N.C.; Kelly J.. Powell of Wilmington, Del., who works in finance; and Terry J. Harrison of Toms River, N.J., a nurse.