Honoring Barbara Johns
4/26/2019, 6 a.m.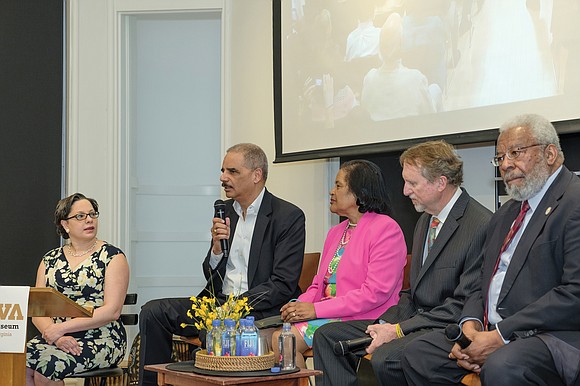 Former U.S. Attorney General Eric H. Holder, second from left, speaks during a civil rights panel discussion last Saturday honoring the legacy of Barbara Johns, the 16-year-old who led a student walkout to protest the dilapidated conditions at all-black Moton High School in Prince Edward County in 1951.
The walkout calling for equal education and funding during segregation led to a lawsuit, Davis v. Prince Edward County, which became part of the landmark 1954 U.S. Supreme Court Brown v. Board of Education decision determining that separate and unequal schools were unconstitutional.
Joining Mr. Holder on the panel, sponsored by the Democratic Party of Virginia at the Black History Museum and Cultural Center of Virginia in Jackson Ward, are, from left, state Sen. Jennifer L. McClellan of Richmond, moderator; Joan Johns Cobbs, sister of the late Barbara Johns; Ken Woodley, a Farmville journalist and author of a book detailing the creation of a state-funded scholarship program to redress the casualties of Massive Resistance when Virginia officials shut down public schools in Prince Edward County and other localities rather than integrate schools; and James E. Ghee, a civil rights attorney in Farmville.