Richmonders show unity, seek healing at area vigils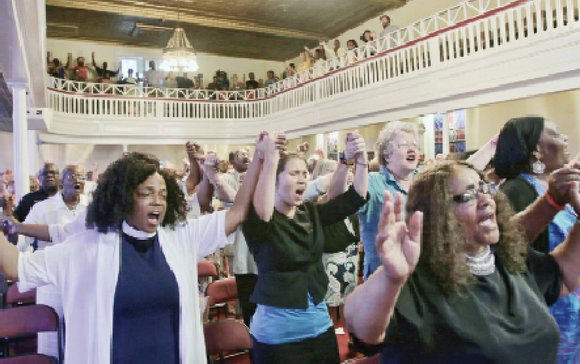 The Rev. Melanie Mullen of St. Paul's Episcopal Church said the shooting made her recall other violent acts, including bombings and shootings, perpetrated upon other African-American churches.
"Something else is greater than fear," she said, and that's the power of God's love. "I will not serve God behind bulletproof glass."
As the service concluded, church officials lit nine candles to honor the dead in South Carolina as Dr. Boyd read their names.
"Brothers and sisters of the AME church, we feel their loss," he said.
Dr. Boyd then noted that a 10th candle represented Mr. Roof.
"We pray for him as well as the nine … that God will change his heart and remove the hate and racism and put love in his heart."
On Tuesday afternoon, the Baptist Ministers' Conference of Richmond and Vicinity remembered the shooting victims at a vigil at Great Hope Baptist Church in Church Hill. Its purpose was "for clergy, community, community leaders and the community collectively to mourn those who were murdered" and to "seek God's peace, love, healing, strength and guidance that will enable them to find comfort to make this world a better place," said Dr. Marlon Haskell, pastor at Chicago Avenue Baptist Church and the president of the ministers' conference.
Dr. Haskell said the 200-member ministers' conference, which represents predominately black churches, is "encouraging all churches and pastors to pray for the victims, their families, Emanuel African Methodist Episcopal Church, the perpetrator and his family, the city of Charleston and the state of South Carolina that embraces the Confederate flag, which is a reminder of deep-rooted racism."