Preston to challenge Dance for Senate seat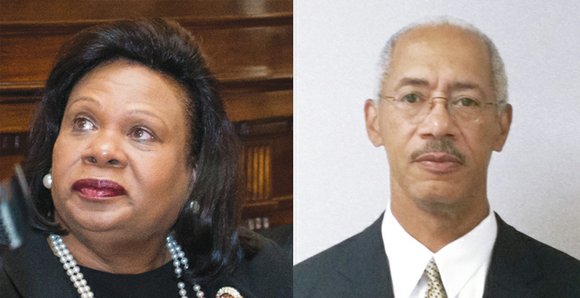 In a surprise move, Joseph E. Preston announced this week he would give up the seat he recently won in the House of Delegates and challenge freshman Sen. Rosalyn R. Dance in the16th Senate District that stretches from Richmond's East End to the Petersburg area.
Delegate Preston's decision comes barely two months after he replaced Sen. Dance as the representative for the 63rd House District. It also appears fueled, in part, by a dispute he and Sen. Dance have over the choice of the first African-American judge for the Petersburg Circuit Court.
Sen. Dance said she tried to work with Delegate Preston, even running some proposed choices by him, but dropped the olive branch after she found he was angling to get the judgeship for himself — an allegation Delegate Preston claims is false.
Diversity in the judiciary is an issue in Petersburg, a majority-black city that currently has only white males on the bench. The first and only African-American judge, James E. Hume, retired from the Petersburg Juvenile and Domestic Relations District Court in 2009.

According to Sen. Dance, her goal during the General Assembly was to secure an African-American judge to replace
retired Petersburg Circuit Court Judge James F. D'Alton Sr. — particularly after Delegate Preston made the lack of African-American judges an issue in his campaign.
But the 67-year-old retired nurse stopped working with Delegate Preston when she said she learned he wanted the job.
Sen. Dance said she was told that Delegate Preston was offering to drop his plans to challenge her for her new Senate seat if she would leave the judgeship vacant.
"I refused," she said, and continued to back Dennis M. Martin, a partner in the law firm of Harrell & Chambliss.
Mr. Martin ultimately was elected to the judiciary by both the House and Senate and will make history when he takes the bench July 1.
Chesapeake Delegate Lionell Spruill Sr. confirmed Tuesday that he had relayed that offer from Delegate Preston to Sen. Dance.
"He did want to be a judge," Delegate Spruill said.
While the legislature is barred by the state Constitution from appointing a serving delegate or senator to a judgeship during the member's term, Delegate Spruill said Delegate Preston hoped that Gov. Terry McAuliffe would appoint him to that circuit court judgeship if the legislature left the seat vacant.
Delegate Spruill said he felt "awkward" when Delegate Preston sought his support for the judgeship. Delegate Spruill said he had no intention of backing the delegate, having introduced legislation to bar General Assembly members from judicial positions until they have been out of office for at least two years.
"That's a lie. It's just not true," Delegate Preston told the Free Press on Tuesday when asked if he fought Sen. Dance's choice because he was seeking the appointment for himself.
He dismissed Delegate Spruill's account as that of an ally of Sen. Dance. Delegate Preston said he could never make such an offer because "you cannot be a judge if you're a sitting delegate."