Preston to challenge Dance for Senate seat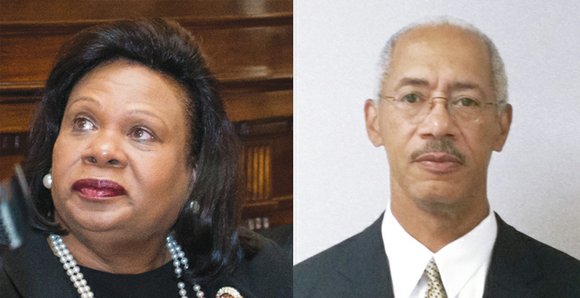 The 58-year-old attorney said he was upset with Sen. Dance's choice for the bench because "I didn't have any input. The result is that the first African-American Circuit Court judge for Petersburg was elected without one Democratic vote" in the House.

Delegate Preston refused to discuss whether he had interviewed Mr. Martin during the session and signaled he could support him, as Sen. Dance said.
What is evident is that Delegate Preston sought to scuttle Mr. Martin's appointment when his name came before the House of Delegates. The Senate already had approved him for the judgeship on a 39-0 vote.
Delegate Preston, with support from Republican Delegate Riley Ingram and other members, got the House to separate the election of Mr. Martin from that of other judges in a maneuver to prevent the vote.
When the House voted on Mr. Martin, Delegate Preston, 32 other Democrats and seven Republicans, sat out the vote. The remaining Republican delegates voted 60-0 to seat Mr. Martin on the court.
Sen. Dance defended her choice, saying Mr. Martin, who lives in Petersburg, has a superb track record as a lawyer and has been a role model and mentor to Petersburg youths as a football coach and tutor. She noted that he also has provided a home for three current and former players.
She said she backed Mr. Martin — and helped secure support from the Senate's Republican majority — after Delegate Preston rejected a proposal of the Petersburg Bar Association. She said the bar proposed elevating veteran Petersburg General District Court Judge Ray P. Lupold III to the Circuit Court and replacing him in General District Court with Petersburg Deputy Commonwealth's Attorney Cheryl Wilson, an African-American.
Both Sen. Dance and Delegate Preston are new to their positions, having won special elections. Sen. Dance gained her seat in November when she was elected to replace former Sen. Henry L. Marsh III; Delegate Preston won his seat in January.
In announcing his challenge to Sen. Dance, Delegate Preston stated that he is running as a "true" Democrat. He has argued that Sen. Dance too often has voted with Republicans.
Sen. Dance is entering the race with the endorsement of Gov. Terry McAuliffe and other top Democrats, including Lt. Gov. Ralph Northam and Attorney General Mark Herring.