Eruption
Baltimore wracked by outrage as protesters turn violent. City, nation look for answers about race, police brutality.
5/1/2015, 2:31 p.m. | Updated on 5/1/2015, 2:38 p.m.
Just hours after Loretta Lynch's historic swearing in as the new U.S. attorney general and the first African-American woman to lead the Justice Department, mayhem erupted Monday in the streets of Baltimore following the funeral for Freddie Gray.
The 25-year-old Mr. Gray died of severe injuries on April 19, a week after being arrested, handcuffed and tossed into a police van. His spine was nearly severed and his larynx was crushed while in police custody, authorities have reported.
The city of 620,000 became the latest flashpoint in a national movement against law enforcement's use of lethal force, which demonstrators say is disproportionately exercised against African-Americans and other minorities.
The deaths of Mr. Gray and black men in New York City, Ferguson, Mo., Cleveland, Charleston, S.C., and elsewhere in the nation at the hands of police have reignited a debate about race relations in the United States.
While several days of large, peaceful protests had taken place in Baltimore following Mr. Gray's death, Monday's action turned violent.
Scores of demonstrators — mostly teenagers and young adults — set fires, looted stores and threw rocks and bottles at police officers in parts of the city.
Police said at least 15 officers were injured — some with broken bones— and more than 200 people were arrested, including about 34 juveniles.
Television helicopters broadcast the eruption that spread through parts of West Baltimore near Mondawmin Mall. One band of about 50 youths stomped on the hood of a police cruiser and smashed in its windows. Another police cruiser was engulfed in flames. Another 140 cars owned by neighborhood residents also were burned or damaged.
Masses of looters broke into a CVS drugstore, eventually setting it ablaze. As smoke billowed into the afternoon air, a number of other businesses, including a liquor store and check cashing company, also were looted.
After Monday's violence, Maryland Gov. Larry Hogan declared a state of emergency and activated the National Guard. Baltimore Mayor Stephanie Rawlings-Blake ordered a curfew from 10 p.m. to 5 a.m. that went into effect Tuesday.
On Tuesday, President Obama strongly condemned the riots, describing the looters as "thugs" who needed to be "treated as criminals."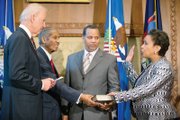 Ms. Lynch echoed his sentiments in a statement she released late Monday night.
"I condemn the senseless acts of violence by some individuals in Baltimore that have resulted in harm to law enforcement officers, destruction of property and a shattering of the peace in the city of Baltimore," she said.
Many in Baltimore agreed, with volunteers and neighborhood residents, including youngsters, turning out Tuesday to sweep up glass and clear debris from damaged stores.
At a roundtable discussion on cybersecurity on Wednesday in Washington, Ms. Lynch said Baltimore could be seen as a symbol of the national debate on race relations and law enforcement.
"But, she added, "I'd ask that we remember that Baltimore is more than just a symbol. Baltimore is a city. It is a great city. It is a beautiful city."
She said it is a city that police were trying to protect and peaceful protesters were trying to improve, all while "struggling to balance great expectations and need with limited resources."