Justice Dept. opens investigation into Gray's death; officers charged
Free Press wire reports | 5/7/2015, 10:23 a.m. | Updated on 5/8/2015, 9:34 a.m.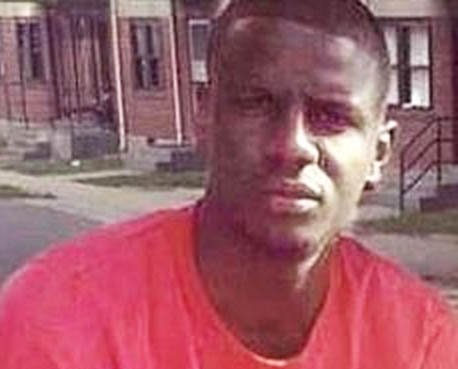 There's an uneasy quiet in Baltimore after six police officers were charged last week in the mysterious death of Freddie Gray while he was in their custody.
Underneath the calm simmers apprehension and anger in the African-American community — ready to erupt again at any moment — if there's another incident of police brutality against a black man in the town known as "Charm City."
That grim reality was clear Monday afternoon when angry community members and officers in riot gear quickly converged in West Baltimore after an erroneous TV report stated police had shot and perhaps fatally injured a young African-American man who was seen running away from pursuing officers.
The volatile scene was near where Mr. Gray, 25, was arrested by Baltimore police on April 12 and later hospitalized with severe spinal and larynx injuries suffered after being handcuffed and tossed into a police van. He died April 19.
But on Twitter, the Baltimore police department said reports of a man being shot were "not true," and the potentially violent situation was defused.
Baltimore has been on edge since Mr. Gray's death. His death sparked days of peaceful protests that were marred by violence just hours after Mr. Gray's funeral April 27. A citywide curfew was lifted Sunday, and Maryland National Guard troops began leaving the area as shoppers returned to Mondawmin Mall, which had been shuttered after looting.
The U.S. Justice Department, led by new U.S. Attorney General Loretta Lynch, is launching investigations into Mr. Gray's arrest and death, and into the Baltimore Police Department's policies and practices for any civil rights violations.
A day after Ms. Lynch visited the city to meet with the Gray family, ministers, police and public officials, Baltimore Mayor Stephanie Rawlings-Blake on Wednesday requested the policies and practices portion of the federal probe, saying at a news conference, "Such an investigation is essential if we are going to build on the foundation of reforms we have built over the years."
The pattern or practice of conduct investigation will be similar to Justice Department probes of the Cleveland, Philadelphia and Ferguson, Mo., police departments. Each of those investigations resulted in scathing reports that uncovered racially charged policing practices and civil rights violations by officers.
President Obama said it was "absolutely vital that the truth comes out." He said he doesn't comment on the legal process, "but I can tell you that justice needs to be served."
"Those individuals who are charged obviously are also entitled to due process and rule of law," he said.
Baltimore State's Attorney Marilyn Mosby said, "No one is above the law," when she announced criminal charges May 1 against the six officers involved in Mr. Gray's arrest.
She declared that his death was a homicide, his arrest was illegal and his treatment in custody amounted to murder and manslaughter. She said even though Mr. Gray requested medical help several times, officers repeatedly missed opportunities to get it for him.
"The findings of our comprehensive, thorough and independent investigation, coupled with the medical examiner's determination that Mr. Gray's death was a homicide, have led us to believe that we have probable cause to file criminal charges," Ms. Mosby said.